VIP Content Analytics by Parse.ly
VIP Content Analytics by Parse.ly makes working with data easy for newsrooms and marketers, giving them the insights they need to focus their content strategy and prove ROI.
Make data easy
Bring data to the daily habits of the creation process. VIP Content Analytics by Parse.ly's intuitive dashboard presents content performance insights in terms that writers, marketers, and executives understand.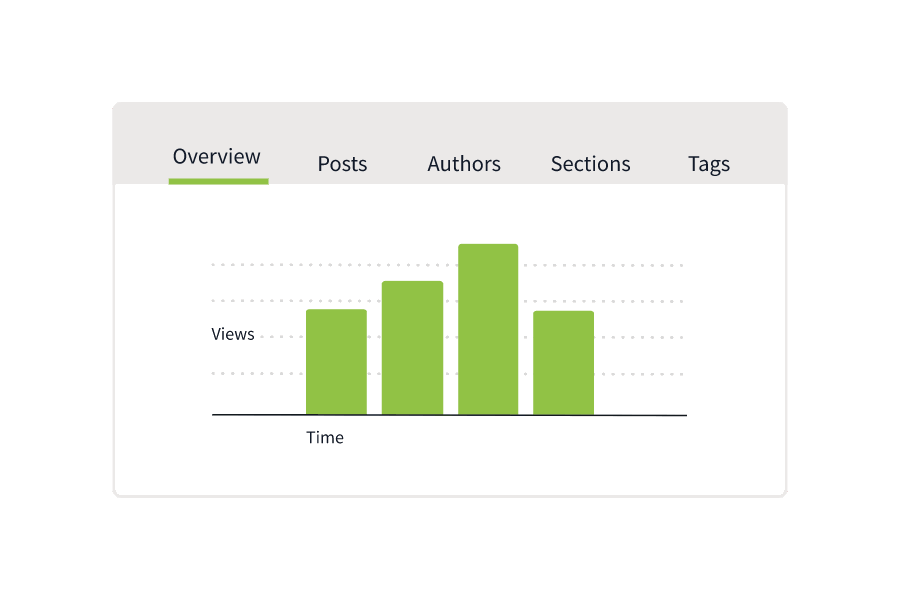 CMS Integrated
Get insights into your content performance right where you create and manage content.
Overview
Customize your home screen to at a glance the metrics that matter to you.
Topics & Tags
Analyze your content by topic, using tags pulled from your CMS or generated by our AI-powered Smart Tags.
Authors
Track author performance—maybe there's something an individual is doing that's working, and the rest of the team should follow suit.
Campaigns
See which campaigns are most effective. VIP Content Analytics by Parse.ly automatically pulls in all your UTMs.
Channels & Referrers
Segment performance via which channel is engaging with your content—whether it's social, search, web, apps, and more.
Sections
Compare your content depending on the sections of your website it lives in.
Word Count
See whether content of various lengths is most effective.
Publish Date
Easily surface all the content published during a given time frame.
Video Analytics
Track whether your audience interacts with your videos, and if videos improve your content.
"We chose VIP Content Analytics by Parse.ly because it's so user-friendly, especially for an editor who wants to be able to report on how their content is doing right away."

Morgan Gibson, Senior Manager of Digital Content, WeddingWire
Focus content strategy
Stop optimizing for high-click, low-value audiences. Use advanced metrics beyond the page view in order to understand the true outcomes of your content.
Historical Data
Understand content trends over days, weeks, months, and years—so you can work smarter, not harder.
Conversions
See what content drives actions. Use the linear conversion model to give credit to content read many clicks before they converted.
Engaged Time
Page views only tell you so much—engaged time is better. See how long customers actually spend reading your content.
Audience Segments
Combine your metrics with audience segmentation to understand the difference between readers, customers, subscribers, and more.
New & Returning Visitors
See what content adds new readers to your audience—and see what content creates the most loyal return visitors.
Comparisons
Easily compare the "before and after" impact of your efforts, to see if the work you did made a difference.
Recirculation Rate
Understand what content keeps people on your site, and where they click next.
Groups
Bring your expertise to your data by grouping different aspects to analyze them together—Tags, Authors, Referrers, and Campaigns.
"Effective storytelling can't happen without valuing and understanding your audience."

Jacqueline Parisi, HelloFresh
Act in real time
Participate in conversations as they happen, instead of reacting afterwards.
Real-time Data
VIP Content Analytics by Parse.ly updates instantly. Maximize the results you get from any spike in attention.
Social Interactions
See the Tweets (and more) about your content, all in one convenient place inside VIP Content Analytics by Parse.ly.
Social Referrers
Understand which social platforms are sending the most traffic to your content.
Alerts
Get alerts to your inbox or on Slack when traffic surges.
Prove content ROI
Make it easy to prove the ROI of content to the business, so you can build a predictable revenue engine with your team.
Reports
Use ready-made or custom reports to show the value of your content. Deliver data via HTML, Email, CSV and XLSX.
Benchmarks
Quickly understand whether content is performing above or below average.
Goals
Put your top-level KPIs in one easy-to-view location, so your team can focus on what matters.
Sharable links
Share content data with those who don't have a login to the VIP Content Analytics by Parse.ly Dashboard.
Trusted by leading brands.