WordPress VIP Privacy Policy
Who We Are and What This Policy Covers
This Privacy Policy applies to information collected by WPVIP Inc. ("WPVIP," "we," or "us") about users of our WordPress VIP and Parse.ly products and services, which include:
Our websites (including wpvip.com and parse.ly);
Our plugins (including the Parse.ly Plugin);
Our mobile applications (including the Parse.ly mobile app); and
Our products and services including those accessed through our websites (for example, the Parse.ly Dashboard and the WordPress VIP Dashboard).
Throughout this Privacy Policy we'll refer to our websites, mobile applications, and other products and services collectively as "Services."
Please note that this Privacy Policy does not apply to data collected from any other products or services operated by our parent company, Automattic, or our affiliates, all of which are subject to a separate privacy policy. For example, the Automattic Privacy Policy covers use of WordPress.com, Jetpack, WooCommerce and much more.
WordPress.org vs WordPress.com vs WordPress VIP: What's the Difference?
WordPress VIP was purpose-built for the highest volume, most security conscious, and most demanding digital properties.
Information We Collect
Information You Provide to Us
It's probably no surprise that we collect information that you provide to us directly. For example, we may collect information directly from you when you request customer support, request a quote or demo via our websites, use the contact forms on our websites or otherwise communicate with us. The types of information about you that we collect may include your name, email address, and phone number, and any other information you choose to provide.
Information We Collect Automatically
We also collect some information automatically about your interactions with us or our Services, including:
Activity, Device and Usage information: We collect information about how you access our Services, including data about the device and network you use, such as your hardware model, operating system version, mobile network, IP address, unique device identifiers, browser type, and app version. We also collect information about your activity on our Services, such as access times, pages viewed, links clicked, and the page you visited before navigating to our Services.
Information from cookies & other technologies: A cookie is a string of information that a website stores on a visitor's computer, and that the visitor's browser provides to the website each time the visitor returns. Pixel tags (also called web beacons) are small blocks of code placed on websites and emails. WPVIP uses cookies and other technologies like pixel tags to help us identify and track visitors, usage, and access preferences for our Services, as well as track and understand email campaign effectiveness and to deliver targeted ads. For more information about our use of cookies and other technologies for tracking, including how you can control the use of cookies, please see our Cookie Policy and the Your Choices section below.
Information We Collect from Other Sources
In connection with our marketing and sales efforts, we may obtain information about you from other sources like public databases, data providers, social media platforms, and other third parties. This information may include names, mailing addresses, job titles, email addresses, phone numbers, Internet Protocol (IP) addresses, social media profiles, social media URLs and custom profiles, for purposes of targeted advertising and event promotion. Additionally, if you create or log into your account through a third-party platform (such as GitHub), we may have access to certain information from that platform, such as your name and email address, in accordance with the authorization procedures determined by such platform.
Information We Derive
We may derive information or draw inferences from you based on the information we (or those that perform work for us) collect. For example, we may determine the approximate location of your device from your IP address. We collect and use this information to provide certain features of the Parse.ly Services. We may also use the information to calculate how many people visit our Services from certain geographic regions.
How and Why We Use Information
We use information we collect to:
Provide, maintain, improve, and develop new products and services, including to debug and repair errors in our Services;
Personalize your experience with us;
Send you technical notices, security alerts, support messages and other transactional or relationship messages;
Communicate with you about products, services, and events offered by WPVIP and others and provide news and information that we think will interest you (see the Your Choices section below for information about how to opt out of these communications at any time);
Monitor and analyze trends, usage, and activities in connection with our products and services;
Detect, investigate, and help prevent security incidents and other malicious, deceptive, fraudulent, or illegal activity and help protect the rights and property of WPVIP and others;
Comply with our legal and financial obligations; and
Carry out any other purpose described to you at the time the information was collected.
We also create aggregated, anonymized or de-identified information that cannot reasonably be used to identify you. If we create de-identified data that we intend to treat as non-personal information, we process, maintain, and use this information only in a de-identified fashion and will not attempt to re-identify such information, except as permitted by law.
Sharing of Information
We share information about you in the following circumstances or as otherwise described in this policy:
Affiliated companies and independent contractors: We may disclose information about you to our parent company (Automattic), affiliated companies, and independent contractors who need the information to help us provide our Services or process the information on our behalf. We require all such entities to follow this Privacy Policy for any personal information that we share with them;
Third-party vendors: We may share information about you with third-party vendors, service providers, contractors, and consultants who need the information in order to provide their services to us, or to provide their services to you or your site. This includes vendors that help us provide our Services to you (like cloud storage services, postal and email delivery services that help us stay in touch with you, and customer chat and email support services that help us communicate with you); those that assist us with our marketing efforts (e.g., by providing tools for identifying a specific marketing target group or improving our marketing campaigns); those that help us understand and enhance our Services (like analytics providers); those that make tools to help us run our operations (like programs that help us with task management, scheduling, word processing, email and other communications, and collaboration among our teams); and other third-party tools that help us manage operations. We require vendors to agree to privacy commitments in order to share information with them. Other vendors are listed in our more specific policies (e.g., our Cookie Policy);
Legal and regulatory requirements: We may disclose information about you in accordance with, or as required by, any applicable law or legal process, including a response to a subpoena, court order, or other governmental request;
To protect rights, property, and others: We may disclose information about you when we believe in good faith that disclosure is reasonably necessary to protect the property or rights of WPVIP, our users, third parties, or the public at large. For example, if we have a good faith belief that there is an imminent danger of death or serious physical injury, we may disclose information related to the emergency without delay;
Business transfers: In connection with any merger, sale of company assets, or acquisition of all or a portion of our business by another company, or in the unlikely event that we go out of business or enters bankruptcy, user information would likely be one of the assets that is transferred or acquired by a third party. If any of these events were to happen, this Privacy Policy would continue to apply to your information and the party receiving your information may continue to use your information, but only consistent with this Privacy Policy;
With your consent: We may share and disclose information with your consent or at your direction. For example, we may share your information with third parties when you authorize us to do so;
Aggregated or de-identified information: We may share information that has been aggregated or de-identified, so that it can no longer reasonably be used to identify you. For instance, we may publish aggregate statistics about the use of our Services.
Your Choices
You have several choices available when it comes to information about you:
Limit the information that you provide: You may choose to limit the information you provide to us when you contact us via wpvip.com and parse.ly.
Opt out of marketing communications: You may opt out of receiving promotional communications from us. Just follow the instructions in those communications or let us know. If you opt out of promotional communications, we may still send you other communications, like those about your account and legal notices.
Set your browser to reject cookies: At this time, WPVIP does not respond to "do not track" signals across all of our Services. However, you can usually choose to set your browser to remove or reject browser cookies before using our websites, with the drawback that certain features of the websites may not function properly without the aid of cookies.
How Long We Keep Information
We generally discard information about you when it's no longer needed for the purposes for which we collect and use it — described in the section above on How and Why We Use Information — and we're not legally required to keep it. For example, in most cases, we keep web server logs that record information about a visitor to one of WPVIP's websites, like the visitor's IP address, browser type, and operating system, for approximately 30 days. We retain the logs for this period of time in order to, among other things, analyze traffic to VIP's websites and investigate issues if something goes wrong on one of our websites.
Your Rights
If you are located in certain parts of the world, including some US states and countries that fall under the scope of the European General Data Protection Regulation (GDPR), you may have certain rights regarding your personal information, like the right to request access to or deletion of your data.
US Privacy Laws
Laws in some US states, including California, Colorado, Connecticut, Utah, and Virginia, require us to provide a list of the "categories" of personal information we collect, as that term is defined in the law.
In the last 12 months, we collected the following categories of personal information, depending on the Services used:
Identifiers (like your name, contact information, and device and online identifiers);
Internet or other electronic network activity information (such as your usage of our Services);
Geolocation data (such as your approximate location based on your IP address);
Professional or employment-related information (such as your company); and
Inferences we make (such as approximate location based on IP address).
You can find more information about what we collect and sources of that information in the Information We Collect section above.
We collect personal information for the business and commercial purposes described in the How and Why We Use Information section. And we share this information with the categories of third parties described in the Sharing of Information section. We retain this information for the length of time described in our How Long We Keep Information section.
In some US states, you have additional rights, subject to any exemptions provided by your state's respective law, including the right to:
Request a copy of the specific pieces of information we collect about you and, if you're in California, to know the categories of personal information we collect, the categories of business or commercial purpose for collecting and using it, the categories of sources from which the information came, and the categories of third parties we share it with;
Request deletion of your personal information;
Request correction of your personal information;
Opt out of the sale or sharing of personal information;
Receive a copy of your information in a readily portable format; and
Not receive discriminatory treatment for exercising your rights.
Right to Opt Out
We never directly sell your personal information in the conventional sense (i.e., for money).
We may share your information as necessary with our third-party service providers to provide our services to you. To the extent that we share your information with certain advertising, marketing, or analytics vendors, this can be considered a "sale" or "share" in certain U.S. states, which you may have the right to opt out of.
You can learn more about this sharing and how to opt out by clicking the "Do Not Sell My Personal Information" link in the footer of our websites. Note that in some instances this link will only display to individuals visiting our sites from within the relevant states.
Our opt-out is managed through cookies, so if you delete cookies, your browser is set to delete cookies automatically after a certain length of time, or if you visit sites in a different browser, you'll need to make this selection again.
We also respect the GPC browser signal and will treat it as a valid means of communicating your desire to opt out.
We do not collect or process your sensitive personal information except where it is strictly necessary to provide you with our service, where the processing is not for the purpose of inferring characteristics about you, or for other purposes that do not require an option to limit under California law. We don't knowingly sell or share personal information of those under 16.
Contacting Us About These Rights
Scroll down to the How to Reach Us section to find out how to contact us about any of these rights.
When you contact us about one of your rights under this section, we'll need to verify that you are the right person. You can also designate an authorized agent to make a request on your behalf by giving us written authorization. We may still require you to verify your identity with us.
Appeals Process for Rights Requests Denials
In some circumstances we may deny your request to exercise one of these rights. For example, if we cannot verify that you are the account owner we may deny your request to access the personal information associated with your account. As another example, if we are legally required to maintain a copy of your personal information we may deny your request to delete your personal information.
In the event that we deny your request, we will communicate this fact to you in writing. You may appeal our decision by responding in writing to our denial email and stating that you would like to appeal. All appeals will be reviewed by an internal expert who was not involved in your original request. In the event that your appeal is also denied this information will be communicated to you in writing.
If your appeal is denied, in some US states (Colorado, Connecticut, and Virginia) you may refer the denied appeal to the state attorney general if you believe the denial is in conflict with your legal rights. The process for how to do this will be communicated to you in writing at the same time we send you our decision about your appeal.
European Privacy Laws
If you are located in the European Economic Area ("EEA"), the United Kingdom, or Switzerland, you have certain rights and protections under the law regarding the processing of your personal data, and this section applies to you.
Legal Bases for Collecting and Using Information
A note here for those in the European Union about our legal grounds for processing information about you under EU data protection laws, which is that our use of your information is based on the grounds that:
(1) The use is necessary for compliance with a legal obligation;
(2) The use is necessary in order to protect your vital interests or those of another person;
(3) We have a legitimate interest in using your information — for example, to provide and update our Services; to improve our Services so that we can offer you an even better user experience; to safeguard our Services; to communicate with you; to measure, gauge, and improve the effectiveness of our advertising; and to understand our user retention and attrition; to monitor and prevent any problems with our Services; and to personalize your experience; or
(4) You have given us your consent — for example when you opt in to receive marketing communications from us. When consent is the legal basis for our processing of your personal data, you may withdraw such consent at any time.
Data Subject Requests
Subject to certain limitations, you have the right to request access to the personal data we hold about you and to receive your data in a portable format, the right to ask that your personal data be corrected or erased, and the right to object to, or request that we restrict, certain processing.
Questions or Complaints
If you have a concern about our processing of personal data that we are not able to resolve, you have the right to lodge a complaint with the Data Protection Authority where you reside. Contact details for your Data Protection Authority can be found using the links below:
For individuals in the EEA: https://edpb.europa.eu/about-edpb/board/members_en
For individuals in the UK: https://ico.org.uk/global/contact-us/
For individuals in Switzerland: https://www.edoeb.admin.ch/edoeb/en/home/the-fdpic/contact.html
Other Things You Should Know
Transferring Information
Because our Services are offered worldwide, the information about you that we process when you use the Services in the EU may be used, stored, and/or accessed by individuals operating outside the European Economic Area (EEA) who work for us, other members of our group of companies, or third-party data processors. This is required for the purposes listed in the How and Why We Use Information section above.
When providing information about you to entities outside the EEA, we will take appropriate measures to ensure that the recipient protects your personal information adequately as required by applicable law. These measures include by obtaining your consent or entering into European Commission approved standard contractual arrangements with entities based in countries outside the EEA.
Privacy Policy Changes
Although most changes are likely to be minor, WPVIP may change its Privacy Policy from time to time. WPVIP encourages visitors to frequently check this page for any changes to the Privacy Policy. If we make changes, we will notify you by revising the change log below, and, in some cases, we may provide additional notice (like adding a statement to our homepage or the WordPress VIP Lobby or sending you a notification through email or your dashboard). Your further use of the Services after a change to our Privacy Policy will be subject to the updated policy.
How to Reach Us
If you have a question about this Privacy Policy, or you would like to contact us about any of the rights mentioned above, please contact us at 1-877-273-3049 or privacy@wpvip.com.
Change Log
March 15 2023: Initial Publication
September 12 2023: Clarification regarding sharing of information with parent and affiliated companies.
Further Reading
Google Analytics 4 vs. Universal Analytics: Key Differences and What They Mean for Content Teams
What You Need to Know About Enterprise WordPress Security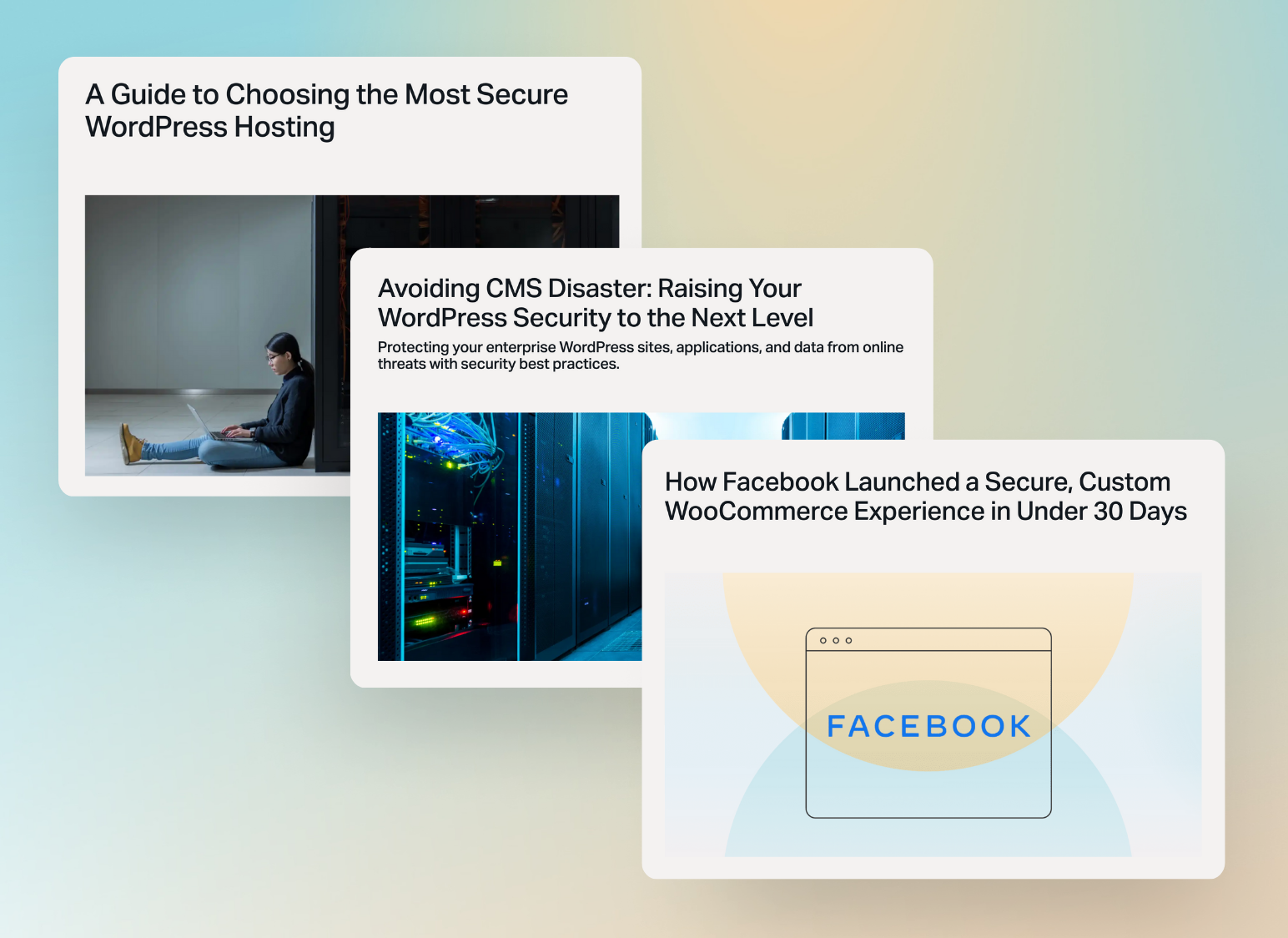 WordPress.org vs WordPress.com vs WordPress VIP: What's the Difference?