WordPress Superuser Training Materials now Open Source on GitHub
Adding to the previous resources and presentations we've released to Documattic, our GitHub repository, we're happy to release what we think will be a valuable resource for the WordPress community at-large: the WordPress.com VIP Superuser Training course!
The Superuser Training course is aimed at site administrators, site owners, editors, and trainers for large or multi-author sites:
In this course, the participant will learn how to manage and use the WordPress interface from a site owner's point of view; as someone who will be managing multiple users, their permissions, and ultimately sharing knowledge with them about how to use WordPress to publish a great site with an active community and/or audience. We like to think of this course as teaching your teachers – those who will serve as the WordPress experts in an organization.

The course also does a deep dive into the publishing process so superusers can teach their editors, authors, and contributors how to best use the WordPress interface. From creating and publishing posts to managing tags and categories, from mastering multimedia and images in articles, and bulk management of posts and pages, it'll cover the entire publishing process from draft to done.
Previously, the Superuser Training course was only presented to VIP clients and partners who took the in-person course taught by VIP instructors during our VIP Training Days, which we've done in San Francisco, New York, Toronto, and London, and will continue to do. We're open sourcing the Superuser Training slides to the community in the hope that any enterprise, WordPress agency, or in-house trainer can take advantage of them as a resource.
The more than 300 slides, including some exercises for students to do directly during the course, are available on GitHub and are released with reveal.js. This means that the HTML version can be presented from any browser, regardless of operating system, and the presentation can be updated by anyone knowing HTML. A brief note about usage to the instructor accompanies an index of the major topics covered in the full-day training course, with accompanying slide numbers so they can be quickly accessed.
An important note: these training materials are not meant to be self-paced or solo training materials. They are meant to be presented by an instructor and additional value-add will be given to the participants through thoughtful explanations and demos as needed.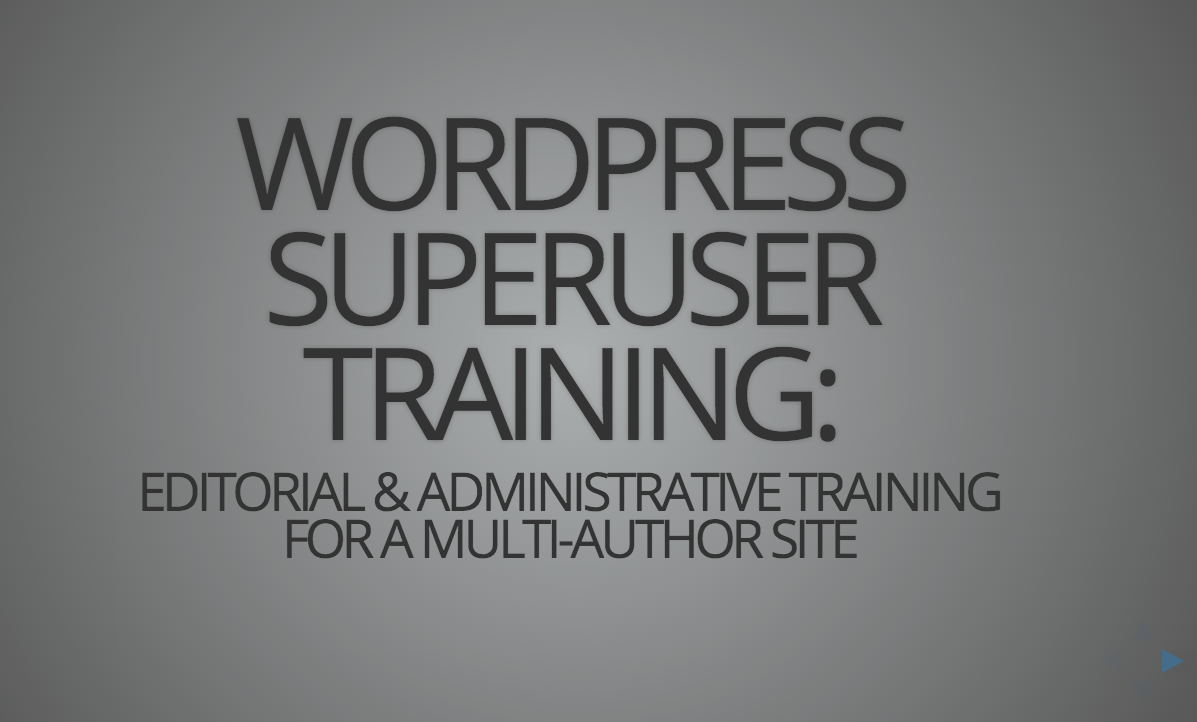 We'd like the content to continue to improve and grow. If you have additional sections to add, updated screenshots to swap in, or other improvements, feel free to make alterations via pull-request. Like all content on Documattic, the content is licensed under the Creative Commons Attribution-ShareAlike 4.0 International (CC BY-SA 4.0) license. Check out the Superuser Training course at Documattic on GitHub.
Which WordPress resources or materials should we make available next on GitHub?