Canadian Olympic Committee launches Winter 2014 Games site on WordPress.com VIP
Today, the Canadian Olympic Committee (COC) officially re-launched Olympic.ca, marking the 3-month countdown to the Winter Olympic Games in Sochi, Russia.
Derek Kent, CMO of the Canadian Olympic Committee, remarked on the site's redesign: "Our vision is to create a website that is best-in-class among National Olympic Committees. We know our fans, athletes and our partners are hungry for Canadian Olympic team content. This and the next generation of the website will ensure our athletes' stories are told, and shared in more compelling ways with fans at home and around the world."
We spoke with Todd Denis, Director, Brand Connections of the Canadian Olympic Committee, about the decisions made regarding the Olympic.ca redesign, which is hosted on WordPress.com VIP Cloud Hosting.
Q: How is the website different from previous Olympic Games?
We wanted to make sure that the entire digital experience was driven by a 'fans first' approach. We've seen mobile traffic on Olympic.ca go from 15% in 2012, to 30% in the first half of 2013, and as of October, 2013 it was at 40%. So, in addition to the more obvious social hooks, we knew that re-designing around fans meant meant we needed to be 'mobile first'.
We had our design partner Zync focus on how things would actually behave as mobile content and navigation – on function, then form – making it easy to share articles, photographs and videos, with a content and menu system built specifically for those smaller screens.
And the site lives within a responsive grid, as we felt this provided our best immediate mobile product, while putting us in a great long-term position to benefit from the constant evolution in responsive design.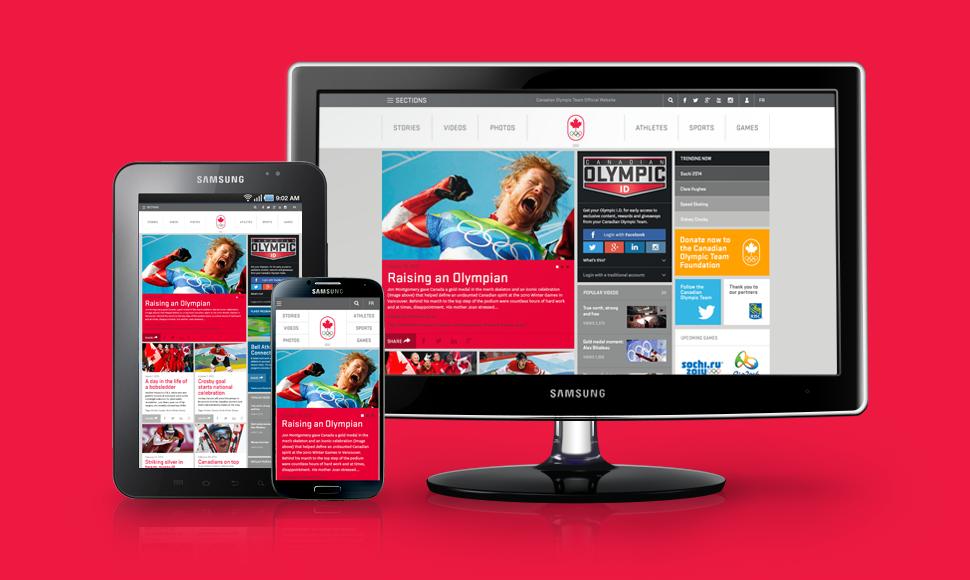 "WordPress.com VIP allowed us to focus on the fan experience and front-facing content, instead of the servers powering it." — Todd Denis, Director, Brand Connections, Olympic.ca.
Q: Why did your team choose WordPress.com VIP as the platform for the Olympic.ca website?
We had to ensure that the site would be ready for any traffic and performance load that the massive Olympic Games audience could throw at it, but we also had to be aware of the limited internal resources we could expend on site administration. We were already running a self-hosted WordPress site, but it was in serious need of a technology and stability update. WordPress.com VIP allowed us to focus on the fan experience and front-facing content, instead of the servers powering it.
Q: How long did it take to put the project together, from start to finish?
From initial RFP to final launch was more than six months, but it was approximately 16 weeks as a pure timeline around UX, wires, content migration and development. We worked with Toronto based brand and marketing agency Zync, and their programming partner Trew Knowledge, to design, develop and support the site.
Q: How will your team use social media to complement the Canadian Olympic Committee website, and to drive traffic to it?
The site is social from top to bottom, with best practices in place for social sharing and channel promotion. But we've also got widgets that pull in context specific content from our social channels. For example, while the universal footer across the site is a direct pull in from Instagram, many of the Twitter feeds are grabbed based on the context specifics of the athlete or sport tags on the page. It's these small things that help build to a more engaged fan-to-athlete experience.
We will also be launching a Canadian Olympic I.D. in the coming months, which will initially behave as a sort of registration system on the site to help streamline saving and sharing of content – and the I.D. will be powered by social registration to help us better understand who our fans are and what type of content they enjoy.
Visit Olympic.ca and see for yourself the new site!
Want more information about WordPress services for your enterprise site? Get in touch.