Technology Partner
Setka
Discover a better way to design posts
Setka Editor empowers editorial teams to design content experiences that convert. It allows for creativity and efficiency in the hands of editors and designers while remaining a controlled, safe, seamlessly integrated, and scalable technology.
Customize design without coding
Setka Editor transforms the content creation process, so you can arrange text, images, and other visual elements into beautiful layouts—without having to code.
Personalized branded style and reusable templates ensure a consistent look and feel on every published post for a better brand recall and awareness—all in a couple of clicks.
This means more beautiful articles with less stress, and more time for the developers to focus on important tasks.
Design features
Grids: Structure your content, dramatically improve readability and gain perfect control over every element on your page in just a few seconds with the grid system.
Interactive design: Easily add a level of interactivity and increase the time readers spend with your content. Add animation, anchors or full width and background images on the fly to make your posts more immersive.
Alignment and Indenting: Easily set your content's horizontal and vertical alignment and indenting.
Customizable inline icon library: Upload and adjust your icon library, edit colors. When used, icons adjust to font sizing.
Automatic PDF Export: Acquire more leads without spending any extra time or effort. With Setka Editor you can offer a downloadable version of your blog post or eBook instantly.
Post styles: Define your post's style in our Style Manager. Determine your text formats and fonts, choose colors and create dividers. Make as many post styles as you like.
Reusable templates and design elements: Create and save post templates and reusable design elements at the click of a button.
More freedom with typography: Choose from hundreds of Google Fonts, connect your Adobe TypeKit or upload your own custom fonts.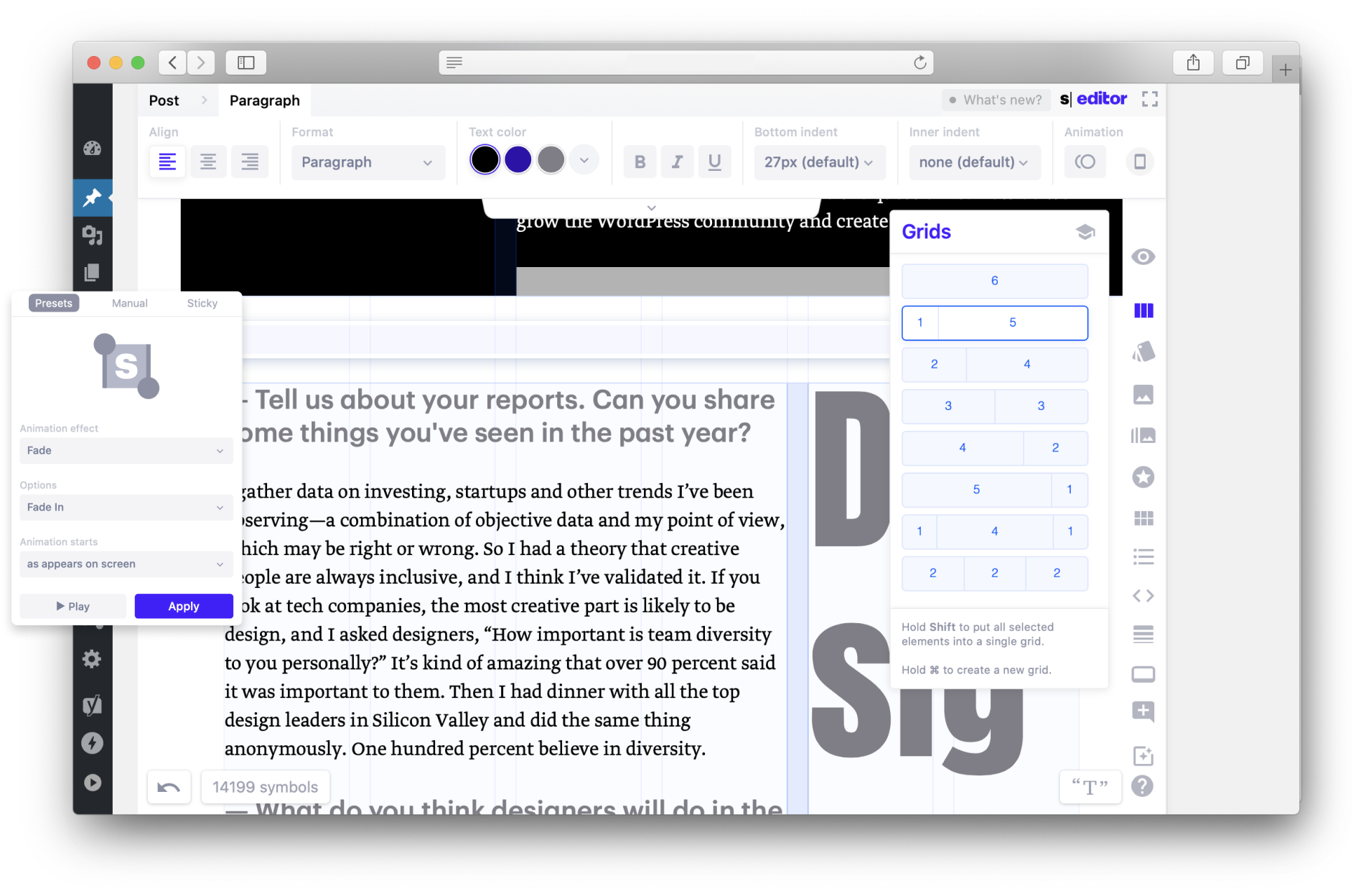 Seamless production process
Setka Editor wants to make design easier, not get in your way. That's why we've made our tool to work within your editorial and technical processes. We do this by providing:
True WYSIWYG: When designing an article you see exactly how it will look when published. Press tab to instantly see both desktop and mobile versions in preview.
Team collaboration and rights management: Everything you need to work effectively as a team is included. Add multiple users to your post, set user rights and communicate through comments.
Extra customization through code: Don't worry developers—you've still got the power. If our grids, fonts, animations, post styles, layouts, templates and snippets aren't enough and you want to customize further, Setka Editor enables you to easily add custom CSS and alter HTML within the post and within any of your reusable design elements.
Get the best out of Gutenberg
Setka Editor complements Gutenberg editor perfectly. In fact it was among the first plugins ready for the release of WordPress 5.0. We have developed Setka Editor as a separate content block, which can be used with any other blocks on your page. This means you can get the flexibility of design for your everyday editorial content, one-off campaign pages or A/B testing, while also saving time with your reusable Gutenberg blocks. Get the best of the two worlds.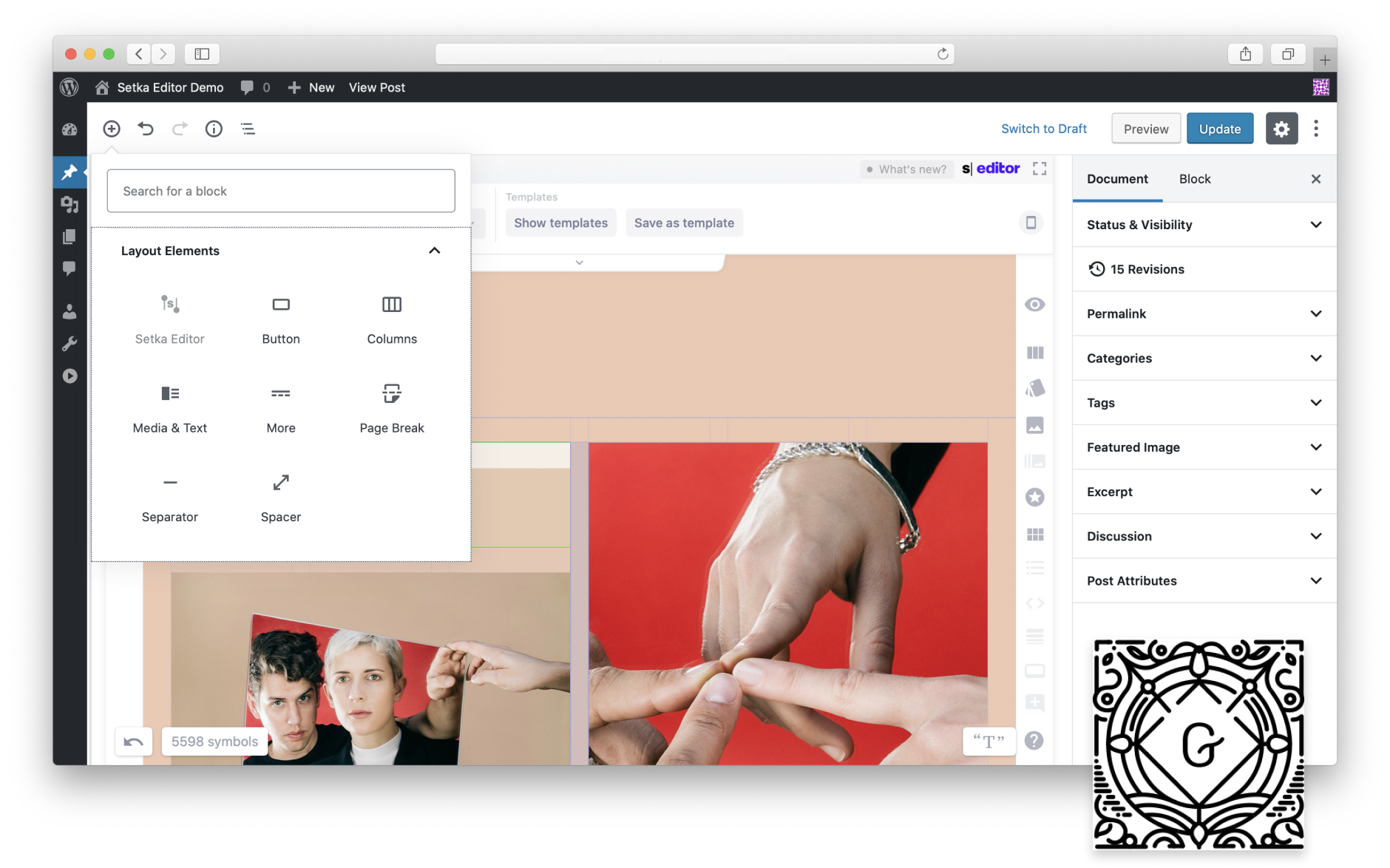 Designed to work at scale
We know the capabilities necessary for a plugin to work for a digital publisher—we were born out of one! The initial Setka Editor prototype was designed within an online media company and developed to work at scale. Using Setka Editor, the same company today creates 2000+ posts per month and receives 7 million monthly visitors. We've also tested it with over 900 international brands of all sizes.
Google AMP ready
The Setka Editor pairs seamlessly with the AMP for WordPress plugin to generate eye-catching Accelerated Mobile Pages. All Setka Editor design elements—like animations, slideshows, etc.—remain the same on Accelerated Mobile Pages or are transformed to fit within AMP's capabilities.
These features work with all AMP plugin template modes: Classic Mode (where you use default WordPress AMP-ready themes to generate Accelerated Mobile Pages) and new Paired and Native modes (where you customize your own WordPress theme or use a native, already AMP-ready, theme).
Clean, SEO-friendly code
Setka Editor is focused on proper code structure in line with HTML5 standards. Unlike many page builders, working within post content allows for a lower level of nesting (which means faster loading times).
Setka Editor properly uses header tags and supports input of alt text for all your images. It is compatible with Yoast and other WordPress SEO plugins.
Multiple output formats
Setka Editor organizes data using a tree-like structure. Each content element (paragraph, picture, grid, etc.) is represented as an object with its own properties and connections to other elements. This means your pages aren't tied to HTML output, and can be exported in any necessary format, including JSON and other formats.
Beautiful content, even if you uninstall
We don't want to lock you in (although we hope you'll stay!). Everything is saved as HTML code in your database. CSS files can be stored on your side or be delivered from Setka Editor CDN. This means that if you decide to uninstall the plugin you will still be able to connect style files to posts that are saved on your server, maintaining both the content itself and its stunning design.
Responsive layout for mobile screens
You will never have to worry about being mobile-friendly again. Setka Editor automatically adapts your post design for mobile and autoscaled images. If you would like to further customize it, you can choose mobile layout options or set specific text formats and fonts for tablet and mobile. Preview your post instantly to see what they will look like on different devices.
Export your layouts anywhere using the cloud
Design Cloud is a Setka Editor tool, which helps to design beautiful posts and export them in HTML to any third-party site or advertising platforms.
---