Hours after winning the 2020 U.S. Election, President-elect Joe Biden took the stage in Wilmington, Delaware to deliver his acceptance speech.
"We're seeing all over this nation … indeed across the world, an outpouring of joy, of hope; renewed faith in tomorrow to bring a better day."
13.5 million viewers tuned in to watch.
At that moment, a handful of engineers were working diligently to launch a project months in the making: the official transition website, Build Back Better.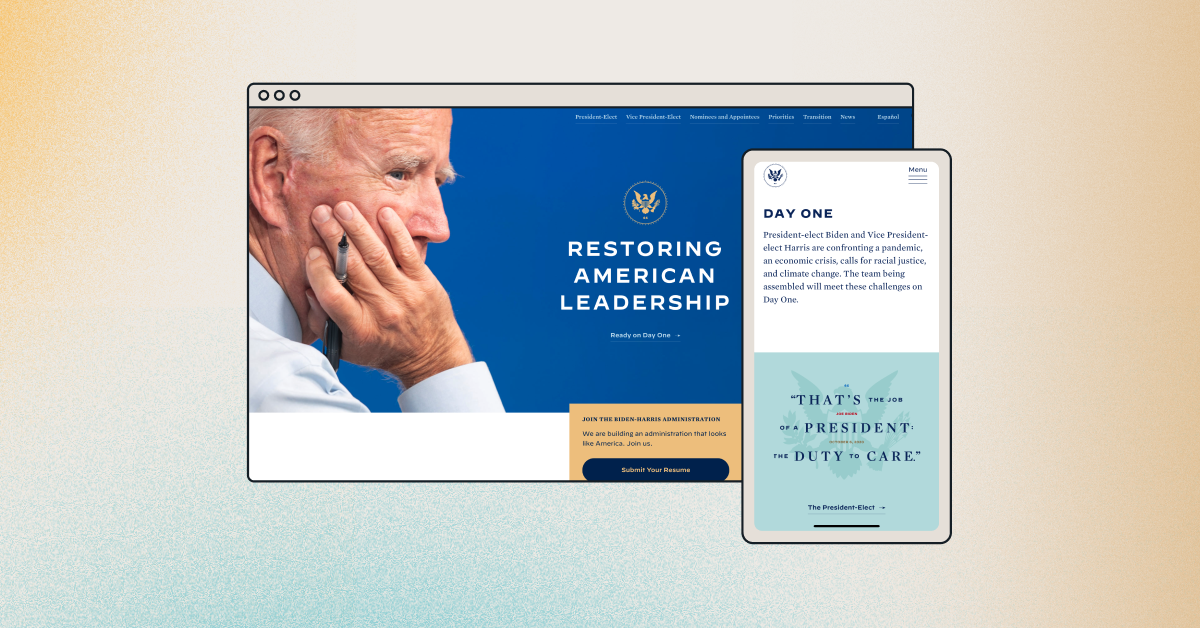 For many, Build Back Better symbolized a clear path forward after one of the most tumultuous elections in U.S. history.
A Transition webpage is up already! Just a short message in English y en español, but it's a good message and a good start. https://t.co/fX1sjK8ucZ

— Robin Garr (@RobinGarr) November 7, 2020
Times of great change require innovation and collaboration. WordPress VIP was proud to partner with Wide Eye Creative and the Biden-Harris Transition team to power the digital home for the peaceful transition of power that underpins American democracy.
Here's how we did it.
Agile content is good politics
Unlike most mission-critical site launches, Build Back Better was dependent on a single variable: the outcome of the 2020 U.S. Election.
In the weeks leading up to the election, WordPress VIP joined forces with Wide Eye Creative and the transition's digital team led by Andrew Nacin. Everyone recognized the site's pivotal role on the global stage which created enormous pressure to get every detail exactly right.
To make sure they were prepared to respond immediately to high-visibility, last-minute changes, the team created a menu of options for launch. Agility and flexibility were common requirements for each.
A secure foundation for change
The transition team chose the WordPress VIP platform as the site's foundation thanks to best-in-class security protections, proven performance through traffic spikes, and a customizable architecture.
To minimize security risks, the team dedicated weeks to architecture consulting and contingency planning, in addition to extensive penetration testing. WordPress VIP engineers conducted a staggering 500,000 lines of manual code review of the theme and plugins in just five days. WordPress VIP provided additional security best practices based on a decade of safeguarding WordPress at scale, including application security checklists for site users.
On top of these rigorous security measures, WordPress VIP collaborated with Wide Eye Creative and the transition team to customize WordPress to support accessibility, SSO, form integrations, and more. Our engineers evaluated and audited every plugin to guarantee they were building the most secure WordPress implementation possible.
Finally, anticipating site visits from millions of viewers across the globe, the team performed multiple rounds of load testing to help the site shine on its biggest days.
Oh wow, my accessibility nerd neurons just got a big pleasure hit. Great example of usability and accessibility. #UX #accessibility #design https://t.co/XuGV00MmRl

— Matt McGlothlin (@bitflipper1) November 9, 2020
Ready, set, launch
While the nation and the world kept an eye on the vote count, Wide Eye Creative and WordPress VIP remained on high alert to launch the site at any minute.
The site first went live as a multilingual splash page on November 4.
On November 9, the full site became available at BuildBackBetter.com, providing the world's first glimpse at key administration policies and priorities, like the President-elect's COVID-19 response plan.
On November 23, when the General Services Administration declared President-elect Biden the victor, the site transitioned to BuildBackBetter.gov—an official government website—marking the final step in the site launch process.
National leaders choose market leaders
By selecting WordPress VIP as its content platform, the Biden-Harris transition team unlocked all the benefits of the open-source CMS that powers 40% of the web.
The flexible and intuitive platform united creators and developers, making it easy to update the site at a moment's notice. As you might guess, agility was crucial for the Biden-Harris team to keep the site up-to-date in the flurry of a presidential transition.
WordPress VIP was proud and honored to work tirelessly alongside Wide Eye Creative and the Biden-Harris transition team to launch Build Back Better on the national stage—truly mission-critical content at scale.