VIP Go platform specific
This document is for sites running on VIP Go.
Learn more
Overview #
This document covers how domain mapping and DNS are managed on VIP Go.
Domains #
Convenience domains and FQDNs #
Each new VIP Go environment is provisioned with a convenience domain for use during initial development and to facilitate pre-launch tasks. The convenience domain will be a subdomain of .go-vip.net or .go-vip.co (e.g. example.go-vip.net).
To ensure your site is as secure as possible, we do not allow launched production sites to use this convenience domain and you must procure a custom domain (eg: example.com), before your site launches.
Non-production environments are highly encouraged to also use a mapped domain (e.g. develop.example.com).
VIP Go supports www and non-www variants of domains. We'll ask which variant you'd like to be the fully qualified domain name (FQDN). For single sites, the www domain will redirect to the non-www domain. In a multisite, these redirects will need to be handled specifically, e.g. in the vip-config.php file, as outlined below.
All mapped domains on VIP Go need an SSL certificate. The VIP team is happy to assist with the procurement, installation, and renewal of certificates.
Domain mapping #
Domains can be mapped in the VIP Dashboard with the following steps. You will need GitHub access to gain access to the
VIP Dashboard, and you will need write access to manage domain mapping:
1. Select the "Domains" link from the sidebar. From there select "+ Add Domain" at right:

2. Enter the domain, click "Add Domain," and after a short wait, the domain will appear.
3. To the right of each domain, the "•••" button opens an overflow menu to access DNS information and certificates for that domain.
4. Let's Encrypt SSL certificates can be provisioned from the certificates menu. If a certificate from a different certificate authority is required, please contact us.

Domain mapping for multisite #
For multisite, domains should be mapped to the application as per the above instructions. Domains must also be mapped to the relevant subsite in the Network Admin using core WordPress functionality. This only allows one domain to be used per site.
If you're using more than one domain per site, set up your vip-config.php file to handle redirecting secondary domains to the desired primary domain for each subsite. Note that for multisite, redirects between non-www domains and www variants need to be specified in vip-config.php.
For more advanced multisite domain mapping, you can use sunrise.php and, optionally, a domain mapping plugin.
See our documentation about Multisite on VIP Go.
DNS #
WordPress.com DNS #
We highly recommend hosting your DNS with our fast infrastructure. By taking this approach, it enables our skilled systems team to effectively route traffic to additional servers, mitigate attacks, or accommodate for a rare outage in one of our data centers.
If you plan on hosting your DNS with us, contact us via support ticket and we will set up DNS management for you, where you can self-service create DNS entries to mirror your current setup. Once setup is complete, you can verify and switch to our nameservers. This should be done at least a week before launch. You can manage DNS for multiple VIP Go sites within the same WordPress.com DNS management instance.
External DNS setup #
Specific instructions to configure DNS records for each domain can be found in the VIP Dashboard. Instructions are unique to each environment, and will be the same for each domain in an environment.
To see the DNS instructions, visit the application in the Dashboard, then choose Domains. Click on the "•••" overflow menu and choose "DNS instructions" to see a panel with instructions specific to the domain or subdomain: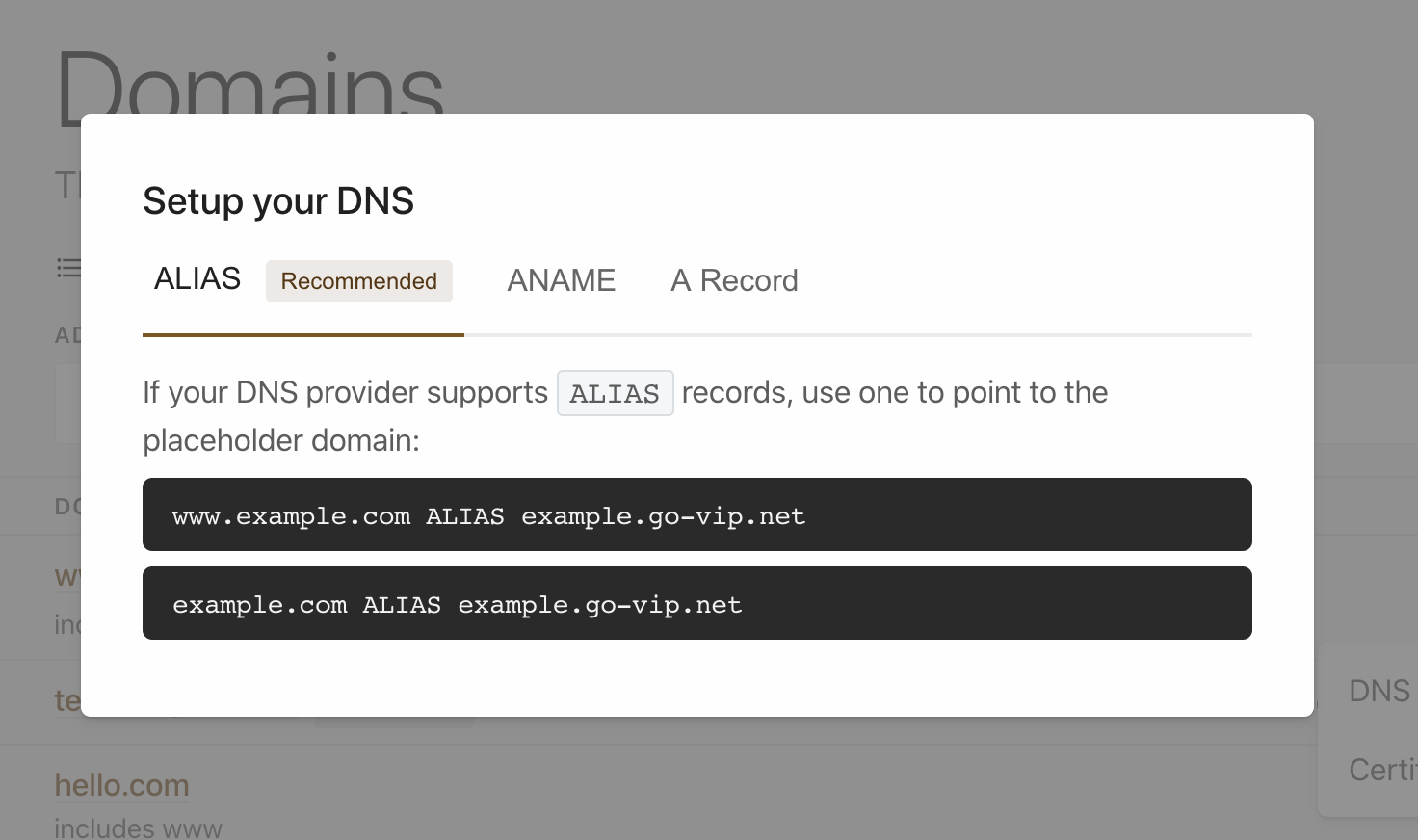 Managing your hosts file #
Modifying your hosts file will allow you to test your website with a different domain before the global DNS system has been modified or updated. This modification only affects your own computer and will need to repeated on each device you wish to test from.
A hosts file consists of IP addresses listed against domains. For example:
192.0.66.2 example.com
192.0.66.2 wpvip.com
In the above example, example.com and wpvip.com are modified to point at 192.0.66.2. Use host with your convenience domain to look up the appropriate IP address for your application:
$ host example-com.go-vip.net
example-com.go-vip.net has address 127.0.0.1
example-com.go-vip.net has address abcd:efgh:ijkl::c000:1234
All modern operating systems make use of a hosts file, but the process for modifying the file varies slightly for each system:
Mac #
Download the free Gas Mask hosts editor (source code)
Launch Gas Mask and find your hosts file
Make the necessary changes to the file
Save those changes, you may be prompted for your user password
Windows (8 & 10) #
Press the Windows key
Type Notepad in the search field
In the search results, right-click Notepad and select Run as administrator
From Notepad, open the following file: c:\Windows\System32\Drivers\etc\hosts
Make the necessary changes to the file and save it
Linux #
Open a Terminal window
Enter the following command to open the hosts file in a text editor: sudo nano /etc/hosts. You will be prompted for your root password
Make the necessary changes to the file
Press Control-X to save
If the changes are not reflected immediately, clear your browser cache and try visiting the site again. Remember to revert any changes you have made once you have finished testing.
Web-based host file management #
Go to https://hosts.cx
Input the IP address found in your VIP Dashboard for the server address, and your final domain as the website name, then hit Get my testing URL
Note that the testing URL will display differently from your final domain URL, but it will be reflecting the site as if it were hosted with VIP and you will still be able to login to the WP Admin and view the VIP site prior to switching the DNS.