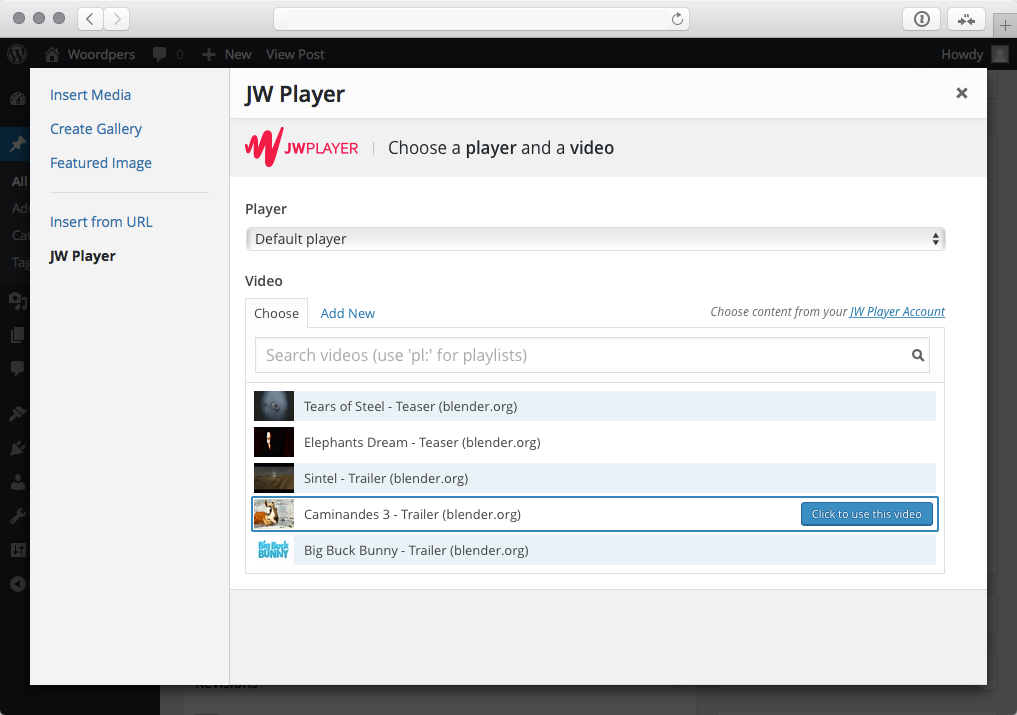 The JW Platform plugin for WordPress provides publishers with the ability to manage the videos they host using the JW Platform, directly within WordPress. Video uploads and embeds can be performed directly within the WordPress post / page editor. This plugin has been built by JW Player, and provides users with an easy way to manage and embed their videos – hosted in JW Platform – and publish them to WordPress, using the JW Player.
JW Platform is an online video platform, developed by the makers of JW Player, built for website owners, web developers, and video producers to upload, manage, customize and publish online video content with ease.
Key Features
Fast video streaming for playback in a video player, in both HTML5 and Flash modes
Inline search field available to locate specific videos within your video library
Quick click-to-publish for a specific video that inserts it into your post/page
Top security using video signing to protect embedded video urls
Seamless integration & full support for the JW Player
Quicktags to locate custom players
Support for uploading videos using our custom widget
Setup
On VIP Go, install the plugin according to our documentation.
Then, go to the Settings » Media page in WordPress, and log in to JW Platform in order to link your WordPress blog to your JW Platform account. Your integration between WordPress and JW Platform is now set up. Feel free to change additional settings, such as the default player to use in your WordPress posts:
In addition to this, you may choose to enable the widget in the authoring pages. By default, the widget is only available in the Add media window, which is accessible by clicking one of the icons after the Upload/Insert text, right above the text area.