Liveblog 1.7 Brings a React Front End and More
We're pleased to announce the release of Liveblog v1.7, which introduces a completely new React-powered front end, adds new features and provides improved support for liveblogging from mobile devices.
Our Liveblog plugin offers a powerful and easy to use way to cover high profile events on an owned channel. With it you can host frequently updated real time event coverage pages, drawing in collaboration from multiple contributors who may be in multiple places. Many of our clients use Liveblog in their newsrooms to cover awards shows, big sporting events, and breaking news.
The new front end, rebuilt from the ground up, offers the enhanced performance and simplicity of React while retaining the existing Liveblog feature set, including:
Key events

Hashtags
Lazy loading of events
Slash commands
Check out the added autocomplete and emoji rendering features in action: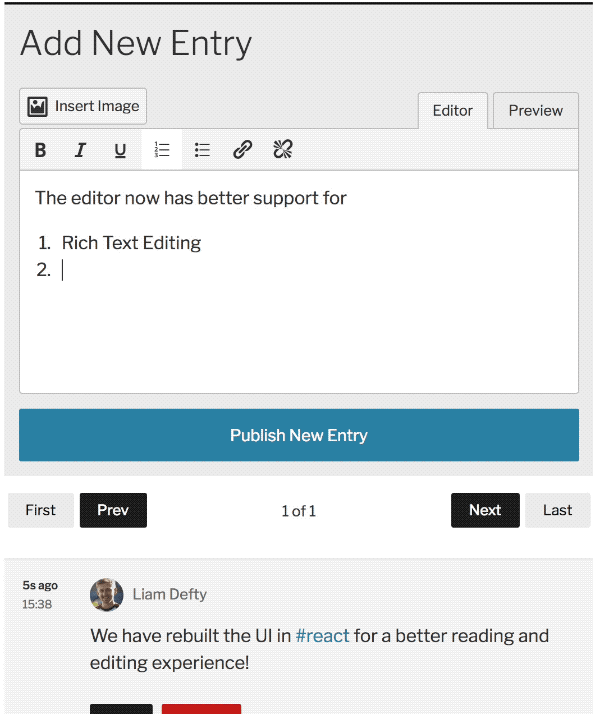 And it adds some of our most frequently requested enhancements:
A more mobile-friendly interface

Easier image insertion, including on mobile
Better formatting tools
Pagination of entries
Performance improvements for high-traffic liveblogs
Here's a quick run-through of what's new for editors:
And for users:
Special thanks to our development partner on the project, VIP featured partner Big Bite Creative, who with this great release have set a new foundation for continued enhancements to a critical newsroom tool.
"It's been a rewarding few months working with the VIP team on what has been the biggest update since the original release. And it doesn't stop here! With 1.8 already in works, we're excited to demonstrate how easy it is to extend the new UI with some exciting new features." said Liam Defty, Release Lead at Big Bite.
In this talk from BigWP London in December, you can hear Jason from Big Bite introduce the context behind this new release and a share a bit about what's coming next.
If you're a VIP client and have any questions about how to upgrade, check the Lobby post for specific instructions, or get in touch with your VIP support team.
Bugs, feature requests, and contributions are more than welcome on GitHub. And anyone can download and use the plugin via WordPress.org.