ONA 2017: Conversations at the WordPress.com VIP booth
I've helped staff the WordPress booth at the Online News Association over the last four years. It's my favorite conference to attend because of all the incredible people we meet: students who learned to code because of WordPress, journalists who built their first portfolios on WordPress, newsrooms that were transformed by WordPress.
Like many ONA attendees, I also built my first website on WordPress in journalism school. I worked at the Chicago Tribune as the newsroom was being transformed by blogs. And like so many of the folks I spoke with last week, in 2012 I too walked up to a WordPress booth at a conference to share my story of how WordPress had changed my life. Little did I know I'd end up joining the VIP team, helping newsrooms transition to WordPress one-by-one.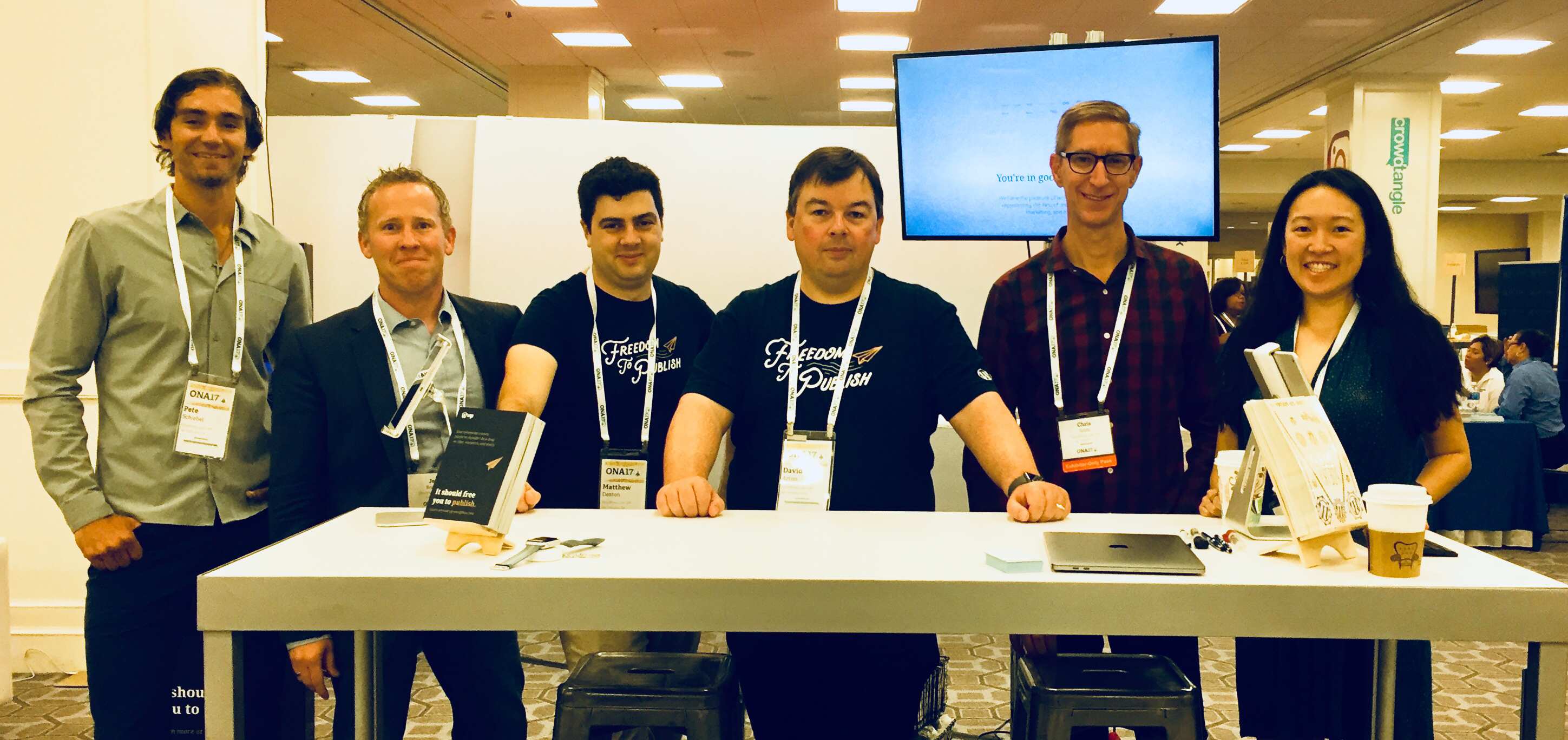 ONA is a massive conference. More than 3,000 people attended this year in Washington, D.C. I knew I'd run into lots of clients and partners, and this year, I was interested in hearing in their words how they reflect on WordPress and its role in their professional lives. So I asked them.
On the first day I saw Zach Seward, SVP of Product and Executive Editor at their gathering to promote Quackbot, their new Slack bot. Quartz's WordPress launch was one of the early projects I worked on when I joined VIP.
"Honestly, to this day, there's not a project or need that we haven't been able to do with WordPress," he said.
High-volume newsrooms love WordPress because of how easy it is for their teams to publish. This year, we co-hosted with our partners Alley Interactive and Parse.ly at the delicious Lapis restaurant in D.C.'s Adams Morgan neighborhood. This was a topic of dinner conversation at my table – how critical time to publish is in a breaking news situation, and how easily WordPress facilitates that.
At dinner I ran into Patrick Tolbert, Digital Director at KXAN-TV, who helped introduce WordPress to his newsroom.
"The reporters love WordPress. When we train, usually we run through training and immediately I get, 'that's it?!'" Patrick later told me. "And I'm like, 'Yeah, that's it! Headline, title, categorization, tags, done!'"
At the WordPress booth the next day, Emma Carew Grovum stopped by to say hi. She helped Foreign Policy move onto WordPress, and today she is the CMS product manager at The Daily Beast. She credits WordPress for teaching her about content management systems – and I asked her what she liked the most.
"That WordPress works on mobile!" she said. "I could update our homepage at Foreign Policy from my phone – I remember sitting at a red light at my car just noodling on the homepage because I could… it was probably not safe!"
I was also curious what our clients were taking back to their newsrooms after this year's ONA. What's next? I had to ask Juan Muñoz, Interactive Director at CNN en Español, who helped put their social and mobile storytelling teams on wheels.
"Integrating all the different tools that we use in one place," he said, always thinking about ways to make his newsroom more efficient. "Seamless integration with APIs from things like Trello, and Slack. Simplifying and and automating the related stories, suggesting links inside of the content so that editors don't have to search."
Your to-do list at @WordPressVIP #ONA17 station:

✅ Grab @moleskine notebook
✅ Recharge dying phone
✅ Relax and chat
✅ Get tatted up pic.twitter.com/dV84ev9Z9C

— WordPress.com (@wordpressdotcom) October 5, 2017
"More security and more automatic security," said Bradley Peniston, the Deputy Director at Defense One, a security publication from Atlantic Media. "It's getting harder and harder for people to have solid, secure websites on their own… The more security can be baked into standard installs whether on my own server or WordPress.com, that's what I'm worried about."
At our booth, I also had the pleasure of meeting Amy Claire Nelson, an audiovisual storyteller.
"I'm working on more interactive storytelling and I'm really attracted to 360 documentary journalism and VR experiences," she said. "I would really love some beautiful templates that would allow a person to experience the project I'm working on… I want my viewer to be present in that situation, for various degrees of immersion into the experience, whether it's desktop, magic box, Oculus."
More reading on ONA? The Nieman Journalism Lab has a terrific roundup.
Looking for more events? We'll be sponsoring and participating in Digital Media North America later this week, in New York October 19-20 (full schedule). Just after Digital Media NA, WordCamp NYC is October 21-22 (tickets are still available!). Topics of interest to the enterprise include 10up CEO John Eckman's talk on Personalization and WordPress and TinyMCE CEO Andrew Roberts' Gutenberg update (full schedule).