We're back with the past month's highlights from across the enterprise WordPress ecosystem and the media and marketing landscape.
News and releases
Updates from around VIP, our clients, and our agency and technical partners.
Media and Marketing Notes
Research and perspectives on the business of media and the practice of marketing.
"On average, visitors spend 48.2 seconds with pages found through Google search that load with AMP, compared to 35.6 seconds on average with standard mobile pages found through search."
-Tess Townsend at Recode, on Chartbeat's latest research on visits to Facebook Instant Articles and Google AMP.
"One of the people familiar with the matter said Facebook is likely to allow users to read 10 articles free before prompting them to subscribe, mirroring the approach of news organizations like the New York Times and the Washington Post."
-Deepa Seetharaman and Lukas I. Alpert of the Wall Street Journal, on the developing story of Facebook's emerging news subscription features.
"There are signs that the internet-culture machines are finding ways to make themselves sustainable: YouTube is not shutting down anytime soon, but pre-roll ads weren't doing the job, and now it has a premium subscription service in order to collect revenue directly from users. The next hubs of internet culture will learn from the mistakes of the past decade, hopefully by doing one of two things: developing a way to collect revenue directly from its audience, like Twitch or Patreon allow now, or by eschewing the notion of a sustainable business at all."
-Brian Feldman in New York Magazine, on what Tumblr's financial challenges mean for businesses built on the propagation of web culture.
Featured June Launch: Mother Jones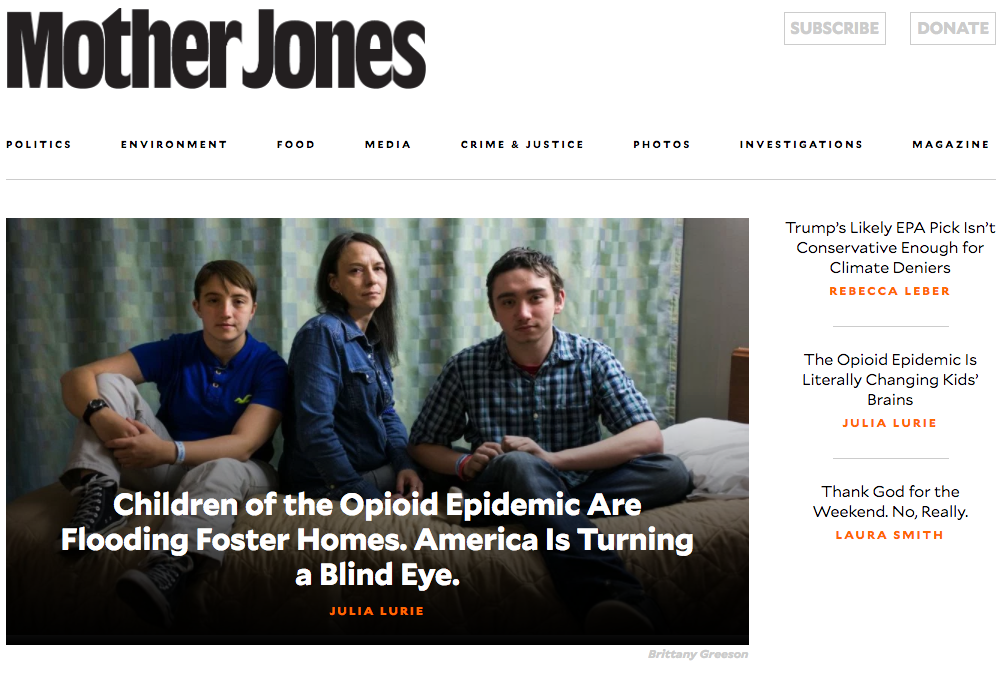 We're pleased to welcome 2017 American Society of Magazine Editors' Magazine of the Year award winner Mother Jones to VIP. Now in its fourth decade, the magazine is a reader-supported nonprofit dedicated to independent and investigative reporting.
Awards and Recognition
Congratulations to Dekode for winning two awards for the campaign they did for Norad, the Norwegian Agency for Development Cooperation, at this year's Sabre Awards. The campaign won in the Youth Marketing category as well as the In2Sabre innovation prize, for using gamification to teach youth. The same campaign also won the best website award at the European Excellence Awards in Brussels. (Short case study in English: Daron)
Upcoming Events
The first ever WordCamp for Publishers is happening in Denver on August 17-19. It is a community-organized event bringing together folks who use WordPress to manage publications, big or small. This event will empower participants by coaching them on best practices, and encourage collaboration in building open source tools for publishers.
An amazing group of speakers was announced in June. They work with journalists and publications on all aspects of digital publishing. They'll lead discussions and workshops on a variety of topics, including WordPress publishing workflows, distribution methods, content syndication and tooling, censorship, modular layout design, open-source in newsrooms, and site architecture.
Organizers from the VIP team, its partner agencies, and VIP clients have worked together to plan this one of a kind event. Tickets are still available, but they're going fast.
Send us your news, events, awards, and other info for the next issue. And sign up below to receive these roundups via email: