We'll always have Paris: thoughts from WordCamp Europe 2017
WordCamp Europe has become an annual highlight for anyone working with WordPress on this (or that) side of the Atlantic, and it was great to see so many familiar faces gathering in Paris last week for the 2017 event, from Europe and beyond.
The event is now in its fifth year, with each a little more polished and professional than the last; and Paris was no exception, drawing a crowd of almost 2,000 people from 82 countries, with another thousand following the live video streams.
The speakers programme featured some of the most prominent names in the WordPress space, including lead developers Andrew Nacin, Mark Jaquith and John Blackbourn; Automattic's global head of computational design and inclusion, John Maeda; plus of course, the now-traditional Q&A session with WordPress co-founder and Automattic CEO, Matt Mullenweg.
It was great to see a number of faces from the VIP partner ecosystem on stage, too. 10up's Adam Silverstein led a workshop at a busy Contributor Day. rtCamp CEO Rahul Bansal gave a flash talk on bringing new people into the WordPress community through translation sprints. Human Made's Petya Raykovska, Jenny Wong and Rian Rietveld gave rousing talks, with Ant Miller bringing his customary energy to the job of MC'ing one of the Tracks. (Or so I'm told: I was MC'ing in the other room at the time.)
A particular highlight was the beautiful and spacious sponsor area, between the registration desks and the main conference hall. Speaking as something of a WordCamp veteran, it felt like the first time I've ever seen sponsors receiving the prominence their support deserves – and without detracting from the community feel of the event, too.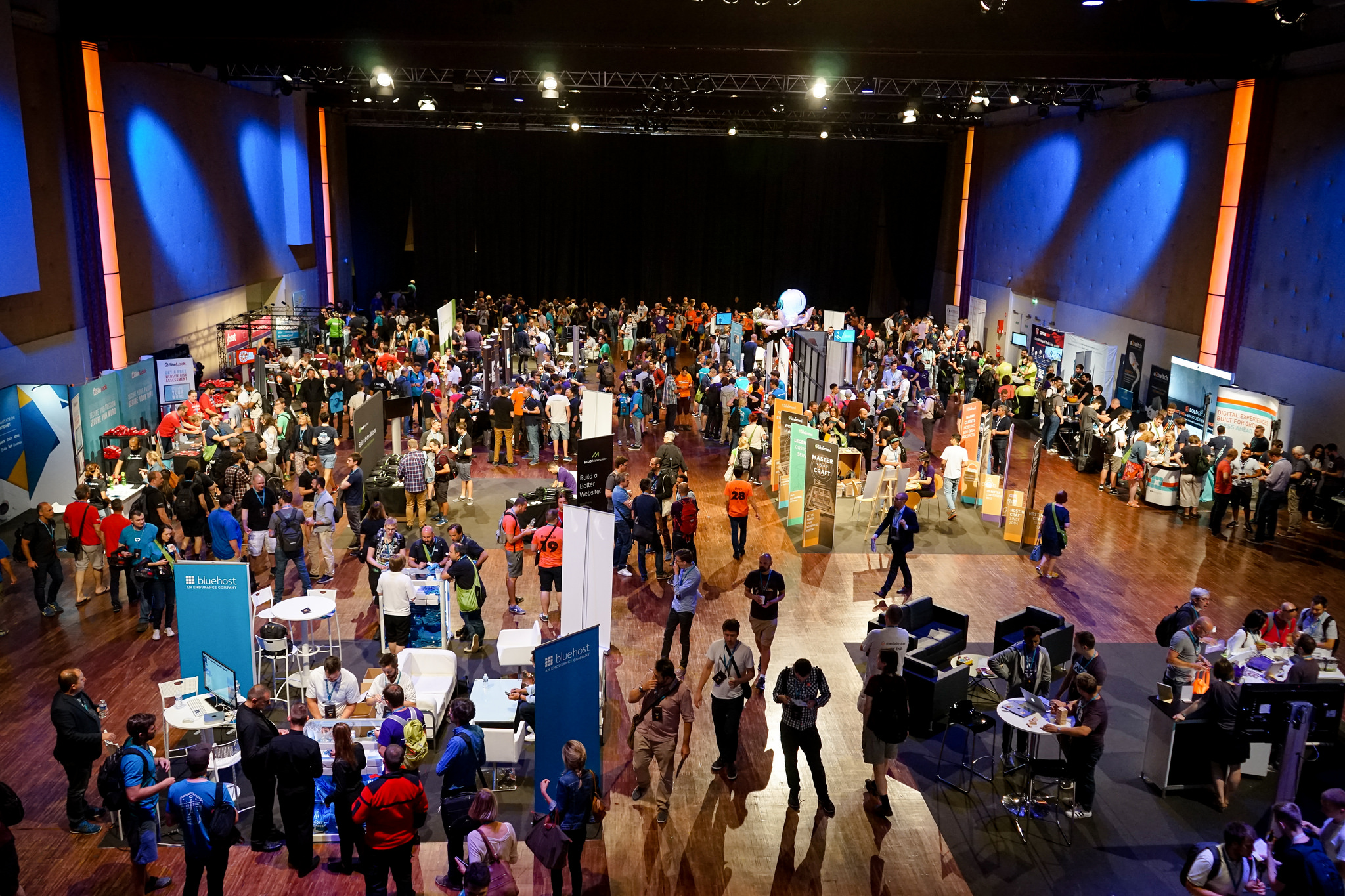 The VIP team has always considered the broader ecosystem to be an integral part of our value proposition. When we represent WordPress at enterprise level, our message is all the more compelling when potential clients can see a diverse marketplace of products and service providers. Looking around the sponsor area, few could doubt that WordPress now demonstrates the kind of maturity and sustainability that corporations expect to see when selecting a strategic platform.
A recurring theme throughout the event was Gutenberg, the new block-based text editor component, whose first beta release Matt Mullenweg announced during his Q&A. Although still some way from being production-ready, it's clear there is a lot of excitement about its potential to take WordPress content creation to the next level, far beyond the current capability of other enterprise CMS solutions. The VIP team will be working with clients and partners over the coming months, to help them make the most of its new possibilities.
The organisers have wasted no time in cutting up the videos for viewing on demand. All the talks, plus a few behind-the-scenes extras are already available at WordPress.tv; many are also available on YouTube. You'll need to supply your own café and croissants.
But really, there's no substitute for being there. If you use WordPress for work or for pleasure, and perhaps even both simultaneously, large-scale events like WordCamp Europe or its transatlantic cousin WordCamp US provide an amazing opportunity to meet people and hear stories from far and wide. Your next opportunity will be Nashville in December; or next year's European event, in the Serbian capital Belgrade. See you there?
Photos courtesy of Val Vesa (@adspedia), published on Flickr under GPL