Welcome to the first edition of VIP Roundup, your monthly review of news and perspectives from across the enterprise WordPress ecosystem, and the digital media and marketing landscape.
This is brand new, and we want to serve your interests, so please send us feedback anytime to steer it towards what would be most useful for you.
News and Releases
Updates from around VIP and our agency and technical partners.
On April 7 we launched our phased rollout of required two-factor authentication, an important step in helping keep your sites secure. 2FA is now required for all users who publish on a VIP site. Thank you to everyone for their cooperation in making this process as smooth as possible.
10up released WP Docker, an open source Docker configuration optimized for local WordPress development. As we previously noted, support for VIP Quickstart officially ended on April 21. If you're still working on migrating away from Quickstart, WP Docker is a good option in addition to VVV and Chassis. If you have any problems migrating, we're happy to help.
Playbuzz released a new version of its plugin which adds the new Playbuzz Creator feature so editors can easily create Playbuzz items directly from the WordPress post editor.
XWP offered a digital treasure hunt they developed as an outgrowth of their new visual identity.
10up Senior Engineer Derrick Koo wrote a step-by-step guide as an easy jumpstart to help anyone who wants to contribute code to the WordPress Core.
Automattic, Mash-up Americans, and MIT Center for Civic Media hosted Design and Exclusion, a remote conference focusing on how the design of technology platforms excludes people. All of the talks are archived here.
Media and Marketing Notes
Research and perspectives on the business of media and the practice of marketing.
The latest moves on the social platforms to address "fake news" include an algorithm update for Google and a broader preview approach on Facebook. Facebook will also invest time to train local newsrooms. Jimmy Wales launched Wikitribune (running on WordPress) this month, as a new model for journalism and publishing. Wikitribune joins a field of new approaches including Jay Rosen's efforts to launch De Correspondent in the U.S.
"Absent any additional warnings other than the disclaimer, [and] fewer than 1 in 5 people recognized native advertising when they were exposed to it – and these were native ads labeled as 'sponsored content." -A recent Boston University academic paper suggests caution and transparency for publishers experimenting with native advertising.
"…if you write a great story about an event, brand, or person not immediately recognizable, you need to explain what it is and why it matters within four words. More than that, and you're meandering." -Ryan Craggs at CJR looks closely at the art and science of headlines and featured images in social media posts.
"We don't need bigger numbers, we need saner numbers." -Josh Topolsky reflects on what's working with The Outline so far and what all media companies should be focusing on in editorial and advertising.
April VIP Site Launch Spotlight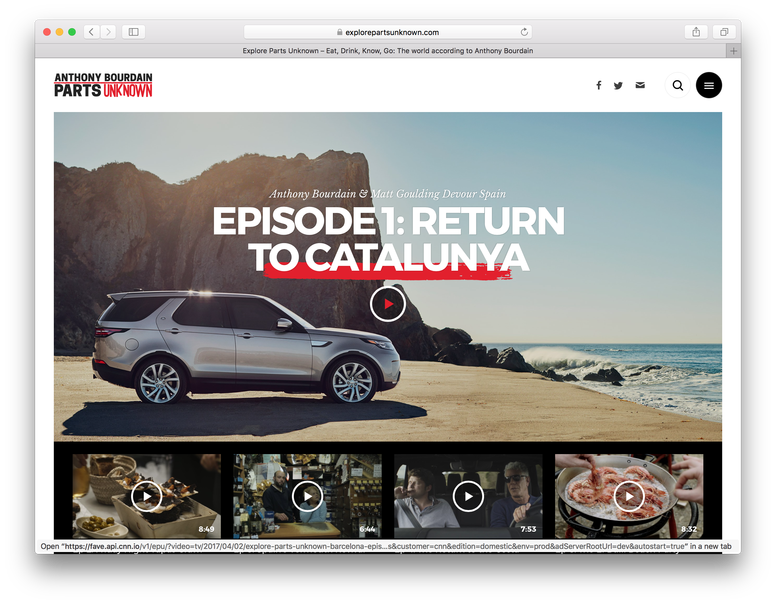 This month we highlight Anthony Bourdain's newly launched online travel guide Explore Parts Unknown. The site features compelling stories, recipes, features, and video snapshots from all of the places Bourdain visits. At launch destinations include Madagascar, Senegal, Hanoi, Korea, Manila, Punjab, London, Rome, the Greek Islands, Istanbul, Vegas, LA's Koreatown, Montana, New Jersey, Buenos Aires, and Colombia.
Awards and Recognition
East Bay Times won a Pulitzer Prize for Breaking News for their Ghost Ship coverage.
Agency Partner Hello Design was recognized in HOW's International Design Annual for their work on #Sonos and #ArtCenter.
Technology Partner Sailthru was named to Gartner's 2017 Magic Quadrant for Multichannel Campaign Management.
Upcoming Events

Further ahead: Calls For Speakers have been issued for WordCamp US, taking place in Nashville in December; and the first WordCamp for Publishers, aimed specifically at journalists and publication managers, happening in Denver in mid-August. Proposals for Denver must be received by May 10th; you have until mid-June to submit ideas for Nashville.
Send us your news, events, awards, and other info for the next issue.