The Coral Project – Community Tools from Newsrooms, for Newsrooms
The ongoing critical interest in the relationships between news publications and their reader communities has only escalated throughout the 2016 US election cycle and beyond. The practice of journalism as a craft and a business is in the national spotlight, and broad cultural issues relating to credibility, truth, and trust are also under exploration. As a part of this, there's a renewed focus in the industry on ways to improve how media companies build and sustain meaningful relationships with their audiences.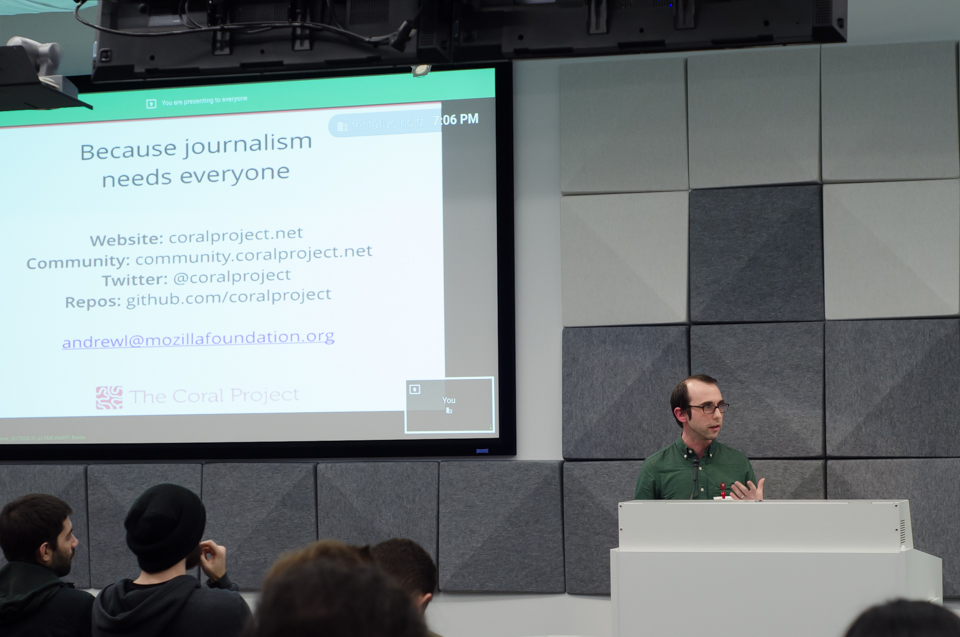 The Coral Project is a non-profit initiative focused on these challenges. It's a collaboration between Mozilla, The New York Times, and the Washington Post, and is funded by a Knight Foundation grant. In addition to ongoing research projects, they're developing open source tools that help journalists and community managers with the thankless tasks of working with community-sourced material and improving the quality of the discussions in online comments.
Forms purpose-built for community sourcing
Andrew Losowsky, Project Lead of the project at Mozilla, stopped by the March BigWP meetup to tell us about the tool set and the thinking behind it. Ask, a tool designed for journalists working on data collection through forms, is purpose-built for the kind of sorting, archiving, and display tasks newsrooms go through any time they put together these kinds of stories.
In the clip below, Andrew explains that use case and how Ask works better than the other tools commonly used today:
Another element of Ask, the Gallery Manager, allows an editor to embed a curated entry into a story using a WordPress shortcode, while allowing edits and omissions as needed, in such a way that preserves the original full set of collected data.
Univision recently used Ask to take in, sort, and use responses from their audience during a special live town hall edition of the weekly news magazine show Aquí y ahora.
Filling in the empty box
When it comes to comment tools, the team at Coral is seeking to improve quality by addressing both cultural and technical challenges. Many online communities suffer from a lack of direction and human tending from the outset, which dooms them to negative interactions and unmet expectations from the start. Using a metaphor popularized by our own Derek Powazek(@fraying), Andrew explains why one of the critical features of Talk, the Coral comment system, is the ability to place a question at the top of the empty comment box:
Andrew concluded with a plea for site owners and operators to carefully consider with which companies they entrust their comment data and systems. Taking the open source approach puts you in control of your community for the long haul. This creates the most direct relationship between you and your readers and participants, who you may be looking to as paying subscribers and sustainers at one point or another if you don't already.
The Ask tool has been released and is available for use, and the Talk tool is in beta testing and will become a WordPress plugin. The Coral Project is also working on guides to best practices in journalism and community management, which will be released later this quarter. Their blog offers a wealth of information, research findings, and calls for participation.
You can follow Andrew on Twitter at @Losowsky and the project at @coralproject.
And to be notified of the next BigWP event in New York, join the Meetup group. There are also enterprise events throughout the year in various other big cities.
If you'd like to hear more about how WordPress.com VIP can free your teams up to focus on publishing, get in touch.