Documattic: WordPress.com VIP Presentations & Resources on GitHub!
We're excited to release what we feel could be a valuable resource to the WordPress community at large, "Documattic," which is a GitHub home for WordPress.com VIP presentations and other resources.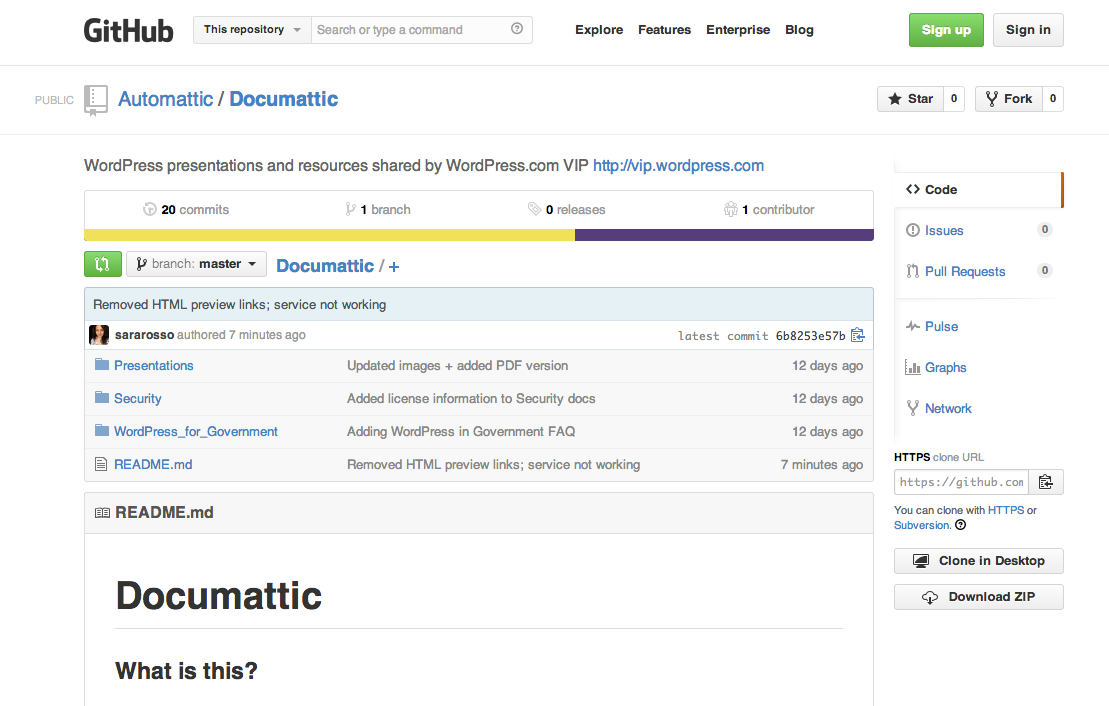 On the WordPress.com VIP team, we spend a lot of time talking to big brands and enterprises about their WordPress needs, which things are working for them, and which situations, features, or functionality need additional information or assistance from the VIP team moving forward. We spend a lot of time explaining the great features of WordPress to client IT, security, and editorial teams, and work with partners and agencies to provide up-to-date information about WordPress software and its vast community of developers, designers, content creators, and site owners.
We'd like to provide even more of that information online, in the hope that it can be useful for the next enterprise looking for information about WordPress, for the agency that needs some reliable answers about how WordPress works in order to explain it to their clients, and for community members who continually have to answer the question, "Can WordPress do that?" We have that information, and we're excited to start sharing, curating, and building it up in a collaborative way.
There are three resources in the repository to start: the Security FAQ, the WordPress in Government FAQ, and my recent presentation about Trends in Enterprise WordPress Content. We're hoping to add more in the future and we'd love to hear which documents, presentations, and resources might be useful to you.
If you're an agency that works with WordPress, think about adding your own resources to the repository, so the WordPress community-at-large can benefit as well!
Check out the Documattic repo on GitHub.
The documents on the repository are released under Creative Commons Attribution-ShareAlike 4.0 International (CC BY-SA 4.0) license. Any documents or resources you'd like to see added to the repository? Make a pull request, or comment below, and we'll see what we can do!