Global News Q&A: The Technology Behind Their Responsive Redesign
GlobalNews.ca is the online news hub for the Global Television Network, a large Canadian broadcasting network with 12 owned-and-operated stations across the country. In March this year, they launched a massive redesign of their site, built on WordPress by 10up and hosted by WordPress VIP. The new site consolidated their many local and national sites into one responsively designed site that displays relevant content based on a user's location. We chatted with Keith Robinson, the manager of digital products at Global News, to learn more about the vision and technology behind this redesign.
What was your team trying to achieve with the GlobalNews.ca redesign?
We were trying to create a news experience that would work really well across any device. We've all seen the tremendous growth in mobile and tablets, and we ultimately felt for news consumers that the best thing to do would be a responsive design that works well on any device.
For the homepage, rather than a traditional news site model, we wanted more of a social media experience. We learned that what consumers want is to choose a story that interests them – that they want to browse through a list of stories to choose from rather than a landing page that gives you a few headlines. It's less of a curated experience, and more of a stream of news. It's an experience that lets the user choose.
We recognize that there are multiple possible entry points to the site beyond the homepage. So our redesign was motivated by the notions that every story is ongoing, every beat is a site and every author is a brand. Readers are more likely to arrive through search or a shared link, and so they are almost always landing on a story page. For that reason, we emphasized the story page where there's a lot of related content, features and a carousel. We included a lot of elements to keep you on the site.
We were also looking to simplify our branding. We had a series of local sites and national sites, and we wanted to bring those together into one GlobalNews.ca experience that detects where you are in the country and gives you a blend of national and local news that's personalized to your region.
How does the site display content specific to a user's region?
We have 12 stations across Canada, so we divided Canada up into 12 different regions and users get localized to one of them when they arrive on the site. This is based on IP detection, and it's about 95 percent accurate. For anyone that arrives on the site, it seamlessly checks the region in the background, cookies it and localizes the site to correspond with one of our broadcast centers.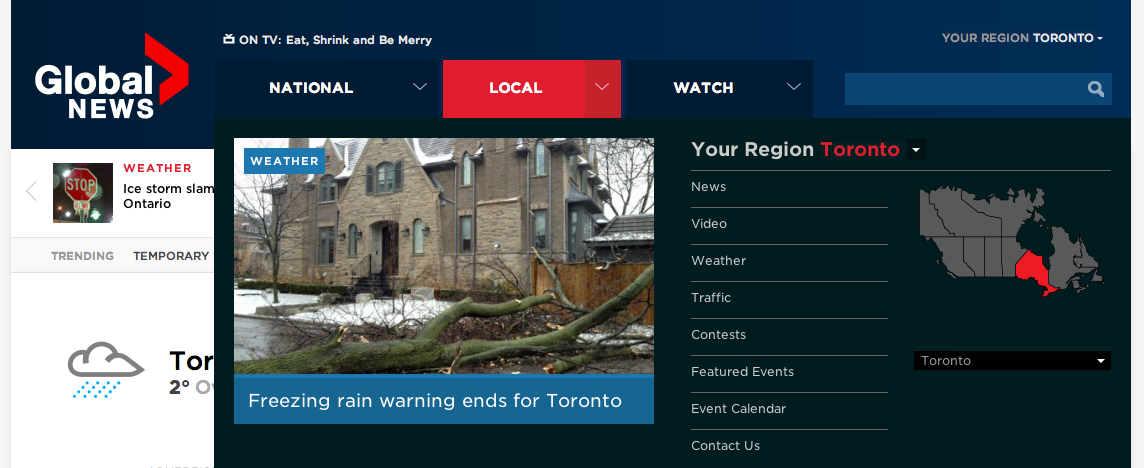 On our site, there are two tabs, local and national. On the local tab, your region will be weighted more with local news, and on the national tab, you will primarily get national news, with your local elements mixed in. On our weather pages, you'll get weather localized to you, and on our programs page, you'll get the programs nearest to you.
There are also several places on the site to change your region, so if you don't want news in Toronto, it takes a couple seconds to change that, and the next time the user returns, the site will have stored their preferences. The stories are localized using a taxonomy, so when a story is filed, the writer checks off a box saying what region it belongs to. It then puts the story into that localized stream on the site.
How do your editors curate content on GlobalNews.ca?
Having a very simple workflow was important to us. When you're a news organization, minutes and seconds matter. When Margaret Thatcher dies, you want that story up on your homepage as fast as you possibly can because that's what your audience deserves. So, we tried to keep the content management system of the site as fast, simple and straightforward as possible so that the editorial staff can focus on making great content and getting up quickly.
10up helped us come up with a curation system that powers a lot of the site: the navigation, carousel, featured story, top story. It's all one system that gives different choices depending on what zone you're curating, so it's not like you need to learn one way to manage content in the carousel and another way to manage content in the right rail.
Also, often times, an article headline is written one way, but the featured title needs to be be shorter and punchier, or the featured picture needs to be changed. The curation tool lets us do that.
Can you tell us about how you integrated video into the redesign?
Our heritage is as a broadcast organization, and we have hundreds of videos produced in-house every day. The purpose of the "Watch" tab is that it takes you to the video center and you can sift through by program or topic area. You can also share the content on social media, and it's essentially as easy as YouTube to embed the video on your site.
The other reality we've found is that as much as you have that broadcast console video experience, the most popular way for people to consume video is on the story page. It's having that in-context video with the story around it. So we've focused on working on videos within story pages.
How long did the redesign process take? 
The concept for the redesign came about in September 2011, and the development work started last year. One of the complexities is that we were doing a complete redesign from the ground up — there was not a single comment element to the old site. And, we were going to a new content management system. So with a brand new backend and frontend, with something that impacts hundreds of people in a larger organization across the country, it makes for a fairly complicated project.
The site design was done by Upstatement, and much of the frontend template work was executed by Filament Group. We engaged with 10up in the fall to do the WordPress integration, and then we've hired our own development team. We were very fortunate to hire some really top talent to work with us, and we've been working with really good partners.
What was it like working with WordPress.com VIP and 10up?
One of the things that makes WordPress powerful is that it is open source and has many plugins, but when you have a project with this much riding on it, and you need a professional product that performs, you want to be cautious. Fairly early on, we knew that we wanted to go with VIP. We wanted that level of support, having people understand how to make WordPress a secure and high performance environment – there was real value there.
The Featured Partner program made selecting a development agency really easy — there was a short list of companies that were already acknowledged as preferred partners, and from there 10up ultimately looked to be the best fit for this project. 10up brought a lot in terms of being able to listen to our needs and turn it into a functional site. They were great for us because we were at a stage where we needed things done very quickly and needed to discuss exactly what we were looking to do and how we were looking to do it – they helped us go from the discovery process to the implementation. Ultimately, getting to that March deadline for us was not easy for any company, but we really benefited from the partnership and they were good to work with.
How has the site redesign changed your newsroom? 
There are some pretty big philosophical and workflow changes. Beforehand, people were spending a lot of time building a page and putting links onto it and massaging it. Now there's a shift to focus on the creating content as opposed to the administration of the content.
By choosing WordPress as a CMS, and moving to a system that is simpler, we're hoping to increase the number of people in the organization who are empowered to create and publish content online. We are a large broadcast organization, with newsrooms in 12 locations and journalists in every big market in the country. We have broadcast journalists that are now not only thinking about the evening newscasts, but also publishing news as it is happening. With WordPress, we have something fairly simple for people who it's not their full time job to publish content, to easily publish online.
Over the weeks and months, we really want to try to create a platform that all of our journalists can use to get the news out quickly and easily when it breaks.