New Liveblog Features: Editing Posts, "Smart" Updates
Have you seen our liveblog premium add-on? Since we launched it in September, we've had overwhelmingly positive feedback.
A quick re-introduction: the liveblog plugin allows you to quickly update a post on the fly from the front-end of your website. It's super simple, no outside embeds necessary. You can even drag-and-drop in photos, and embed tweets by pasting in the tweet URL. Take a look at our full documentation of liveblog features.
Below are the new features we've added this week. Download the liveblog plugin here.
Edit Previous Liveblog Posts
The ability to edit posts was the most-requested feature from VIPs. We're happy to announce that this feature has been added. To edit a previous post, all you need to do is scroll back in time, click "edit" on a post, and you'll be able to rewrite history.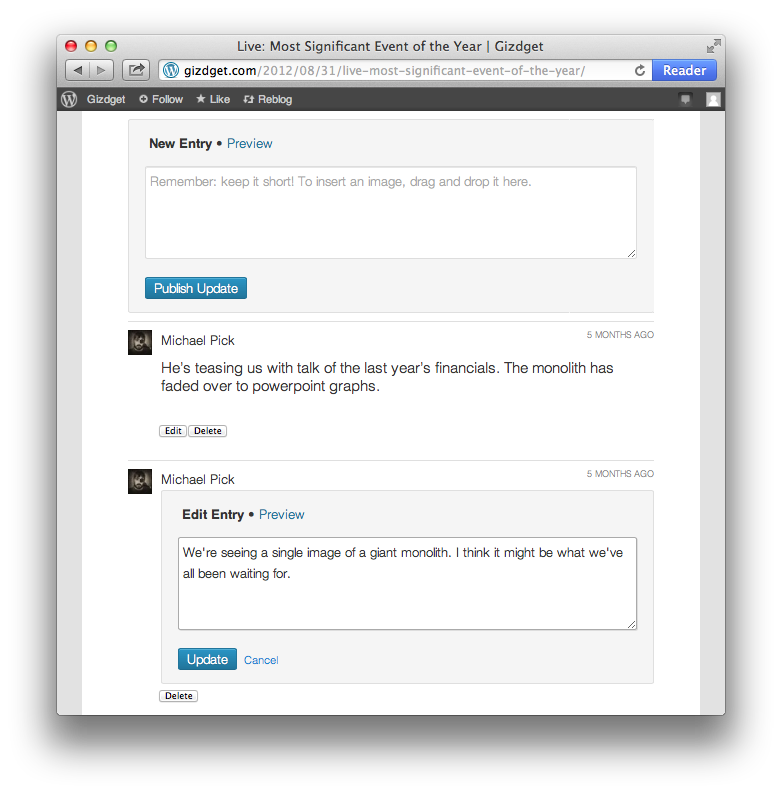 "Smart" Updates
This feature makes it easy for your readers to enjoy your liveblog without being overwhelmed with updates.
If the reader's browser is sitting at the top of the post, new updates will automatically appear, highlighted in yellow.
However, if your reader has scrolled down the post to catch up on previous updates, liveblog will wait to update with new posts. Instead, a notification bar will appear at the top of the screen. When the reader clicks on the bar, the new updates will resume loading at the top of the page.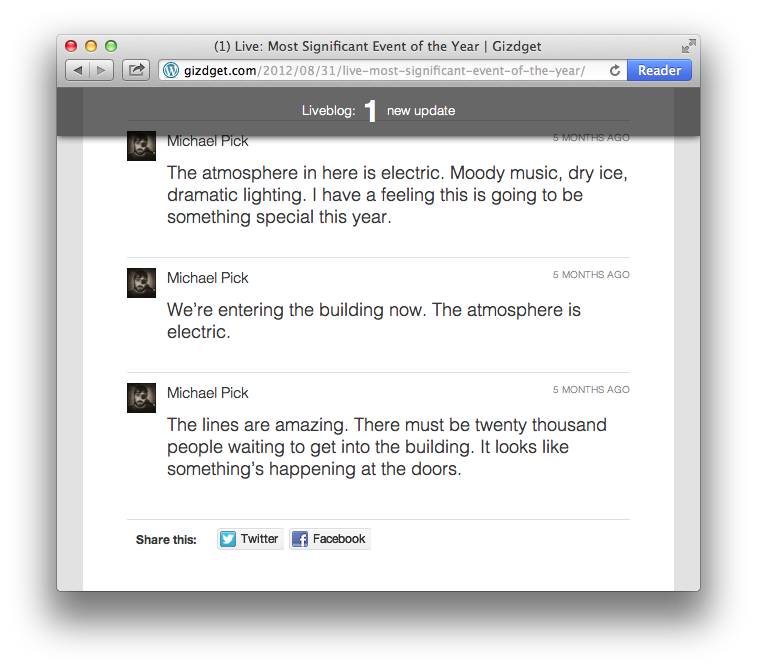 Post times are also now relative, which means it will display as "2 minutes ago," with the time updating every minute.
Archive Liveblog Posts
Once the event has wrapped up, you can archive your liveblog. This means that visitors will still be able to see the blog, but the editing tools will go away and the post will stop polling for updates.
You can archive and re-enable a liveblog from the Edit Post page.

When a liveblog is archived, your editors will see a notification that says the liveblog must be enabled to accept new posts.

We've loved watching our VIPs use the liveblog premium add-on. National Post used it to cover Lance Armstrong's interview last night, and TVLine used it for the Golden Globes on Sunday. Big Ten Network liveblogs games every Wednesday, and Time.com has used it to cover high traffic events like the iPhone 5 announcement.
Special thanks to Matt and Zack at GigaOM for their help with the smart updates feature, and everyone else that has submitted bugs and feedback. You can see GigaOM's use of the liveblog with the recent Facebook event.
For VIP SaaS Hosting clients, the Liveblog Premium Add-On is $500 USD per month, with an annual subscription. This includes unlimited liveblogs, and an unlimited number of users visiting, viewing, and receiving updates — all powered by our massive WordPress.com cloud infrastructure.
If you're interested in giving the liveblog a try, please get in touch!