WordPress.com Enterprise is Live
Today marks a new era for high-profile websites on WordPress.com.
In a world of social networks and flash hits the compromises of legacy hosting aren't good enough anymore. You need to be able to create a bespoke site in a day, have it work great on desktop and touch devices, be bullet-proof secure, and scale to the occasion when the world shows up at your door. As the saying used to go: fast, cheap, good — pick two.
"When we created The 4-Hour Chef website, we wanted a custom, mobile-ready design that would be able to handle a lot of traffic," said Tim Ferriss, #1 New York Times bestselling author of The 4-Hour Workweek and The 4-Hour Body.

"With WordPress.com Enterprise and the support of the team at Automattic, we got the site up and running quickly with all of the features we were looking for."
Now you can pick three. We're announcing a new platform, WordPress.com Enterprise, that brings the best of WordPress.com: all of our paid upgrades, including premium themes and Custom Design, and the best of all the built-in WordPress.com VIP features such as 70+ vetted plugins which include integrations with top partners such as Flipboard, Chartbeat, and Facebook.
To top it off, you also get our new Javascript customization service that allows you the flexibility to customize your site without needing to touch the underlying PHP code. You can tweak and personalize to your heart's content.
Sign up and you can launch your site within minutes and scale your traffic on our cloud, which delivers 100s of millions of pageviews/day.
We've had the pleasure of working with a few beta customers as we've ramped up, and they are great examples of what you can do with Enterprise: Tim Ferriss' The 4-Hour Chef, ESPN's Digital and Print Products, Soleil Moon Frye's Moonfrye.com, and The Crosby Press from JackThreads.
WordPress.com Enterprise will scale with you as your site goes viral, gets picked up by a big media outlet, or grows in popularity. Enjoy unlimited traffic, bandwidth, and storage, plus top-notch support, all for $500/month per site.
Get started today! Sign up for WordPress.com Enterprise for your next site.
Take a closer look at WordPress.com Enterprise below.
Getting started with WordPress.com Enterprise:
The WordPress.com Enterprise Dashboard:
Some of the 70+ WordPress.com VIP Plugins available to WordPress.com Enterprise users: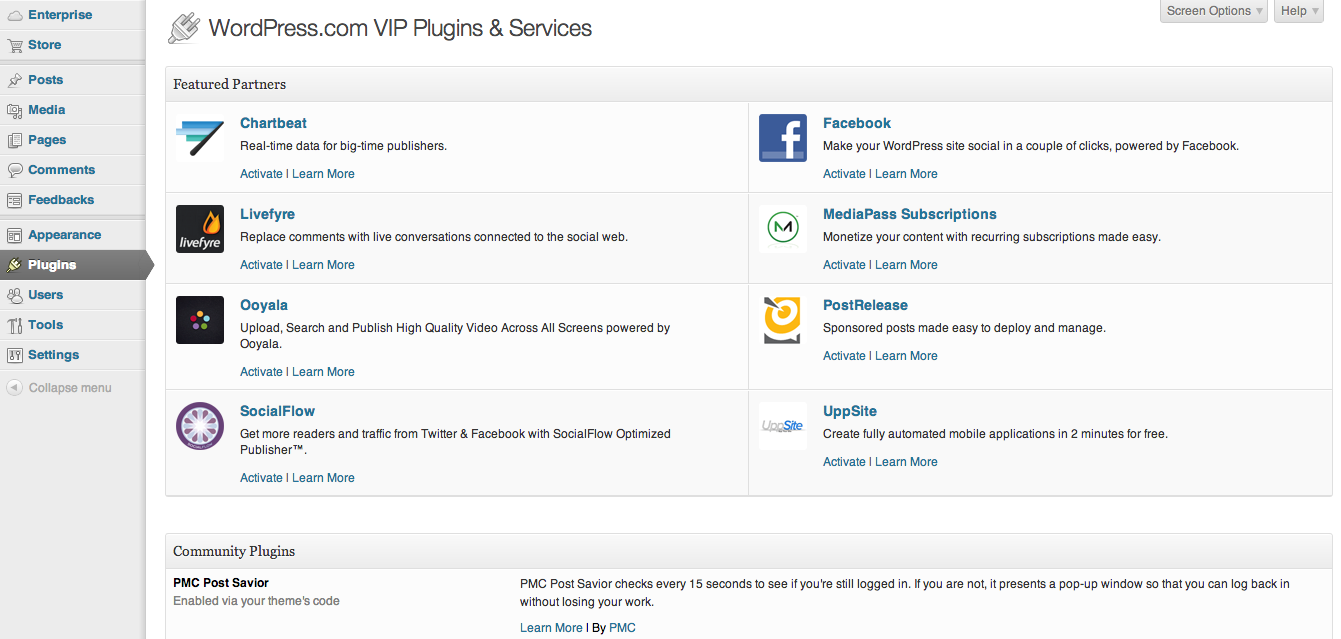 Learn more about WordPress.com Enterprise for your next site.